The Two of Me (Paperback)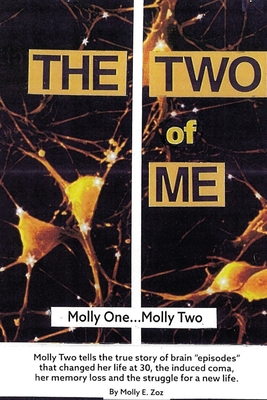 $17.24

Warehouse, In Stock | Usually Ships in 1-5 Days | New
Description
---
About the Book:
This is a story of a woman that turned 30 and lost her life due to the unknown. The brain is an organ that can not be fully studied. Her goal in this book is to overcome the cycle of the trauma of whatever her brain decided to take on one day. The day of her 30th birthday was a new beginning for her. She was in a way reborn after a coma. This book is about her strong will and way to overcome her struggle with the world and hurdles
around her. This is a story of a woman coming into 2014 as a newborn child, literally.
About the Author:
Molly Zoz was born in Cincinnati and raised in the area. After college, she has been living her life serving people in their time of grief. She has been
a funeral director and embalmer for over ten years. She became a director with her degree from the Cincinnati College of Mortuary Science. This college is one of the best in the county for training. While meeting with these families in their time of need she realized she needed to get a higher understanding of what they were going through. So, she went on to earn her Master's Degree in Marriage and Family Counseling. One day Molly's Degree in Marriage and Family Counseling. One day Molly suffered an unknown trauma and lost part of her life and memory. Molly had to rebuild her life. She went on to write this book with confidence and strength to motivate those who have been through bumps in their own life road. Now a few fun things... I love thunderstorms. I watch as the rain puddles, and the lightning bolts, and enjoy as the thunder rolls. I like eccentric elephants. This means I don't just collect any elephant off the shelf. It has to have a purpose or meaning to me. For instance, I have an elephant that is also a
wine bottle (purpose). My favorite holiday is Halloween. I enjoy the decorations and the colors. Speaking of orange and black, I am a devout Cincinnati Bengal fan. I wear the symbol of WHO-DEY year round. I am a fan even if they are not playing well. My life in a nutshell is all about people and getting to know them. I hope you enjoy my book, read it well, and know I am always willing to listen.