RETIRE NOW! Your Blueprint to Financial Freedom Through Property: Never have to work another day in your life. Choose how you want to spend your days. (Paperback)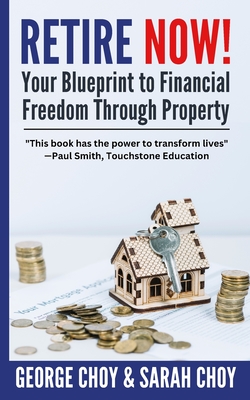 $14.99
This item is backordered and not currently available. Please contact us for an estimated availability date.
Description
---
RETIRE NOW shows you how George and Sarah Choy started a multi-million property portfolio without any money and were able to retire when Sarah was only 39 years old.If you want to achieve financial freedom, then this is the book for you. RETIRE NOW gives you a blueprint for financial independence through property investment. You'll learn about Buy To Let, Commercial Property and Serviced Accommodation - three of the most profitable property investment strategies around. This could book could get you out of your job within a year or less, so you can spend your days enjoying life instead of working.What You Will Learn:
How to manage your finances so that you can afford to invest in property.
How you can find hidden money that you can use right now.
How to systemise your retirement, so you earn passive income while you sleep.
How to use your pension to invest in property.
How to set up your property investing company.
How to establish a wealthy mindset that will help you attract wealth into your life.
Best of all, Sarah and George reveal how they became financially free so fast.
Who This Book Is For:
People who don't want to work another 20-30 years.
People who want to claim back their time, so they can spend it with their family, travelling, and pursuing their passions.
People who want to learn the how to invest in Buy To Let, Commercial Property and Serviced Accommodation (Holiday Lets).
People who already have a few properties and are wondering why they are not financially free yet.
People looking to increase their passive income.
People who want to buy property in a smarter and more profitable way.
Reviews of RETIRE NOW: "A no-nonsense approach to achieving financial freedom."
- RAJ BERI,
Your Property Network (YPN) Magazine
"George and Sarah are two of the most inspirational people.
Whenever I look at what people are commenting about them online, there's a stream of people thanking them for sharing their journey and telling them what an inspiration they are to other property investors. This book has the power to transform lives."
-PAUL SMITH,
Touchstone Education
"If you are serious about creating wealth, this book will give you a very solid foundation."
-KEVIN WHELAN,
Founder of WealthBuilders
"If you have some property experience you soon realise this is a genuinely helpful book which dives deeper into specific strategies for beginners through to the more advance investor."
- Amazon customer "Fantastic Book - Best I read this year on Property.. Simple and Effective"
- Abhijit "We strongly feel that this book has given us hope, confidence & direction in achieving our goals. We would highly recommend this book to anyone."
- Nanise Thistleton "Very detailed and very honest book. If you want it, you can do it. It's up to you. Lots of examples and diagrams which are easy to understand."
- Stephen James Cardwell "Makes me grow in confidence to succeed."
- Prescilla Harris "The Go-To Guide for Achieving Financial Freedom "
- Amazon customer "Really enjoyed this book and it has changed my thinking around property and getting clever with your money - making it work for you."
- Leanne Spencer "Great for any stage of becoming a property investor. George and Sarah's approach is real and easier to understand than other books in their field."
- Karen "Must read book towards early retirement "
- Yoke O'Brien "Anyone who has dreamed of a time when their lives would be different, and they could be in charge of what they do with their time, should read this book."
- Richard
Buy RETIRE NOW and get to financial freedom through property in the faster and smarter way.