My Penguin Year: Life Among the Emperors (Compact Disc)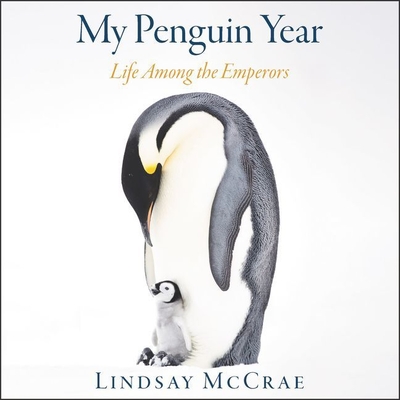 $29.99
This item is backordered and not currently available. Please contact us for an estimated availability date.
Description
---
An unprecedentedly intimate portrait of an emperor penguin colony in Antarctica, by a Bafta Award-winning BBC director of photography who observed these extraordinary birds for a year. This is the ultimate gift for any penguin or nature lover.For 337 consecutive days, Lindsay McCrae followed 4,000 emperor penguins amid the singular beauty of Antarctica, chronicling their remarkable year-long journey of life, death, and birth. McCrae was there as the director of photography for the acclaimed BBC series Dynasties (narrated by Sir David Attenborough), for which he won a 2019 Bafta Award. Even in the depths of the Antarctic winter--the harshest environment on earth--McCrae witnessed the most intimate moments of these beloved animals as they sought survival with temperatures reaching 60 degrees below zero.
An unforgettable narrative account that is poised to become a classic of nature writing, My Penguin Year takes readers into the world of the emperor penguin as no book has before. Emperors are the world's largest penguins, and they play the game of life on the highest difficulty level, breeding in pairs on sea ice during the Antarctic winter. After mating, the female penguin lays her egg, and then disappears, not to return for months. The male penguin will starve himself for more than 100 days, incubating the egg in his pouch, while the female heads off in search of food. Finally, the female returns, and, recognizing her original mate by the sound of his call, is reunited with the father and their newly-hatched chick.
Highlights:
A decision to save penguins' lives. McCrae details the difficult decision to break documentary protocol and intervene to save a band of penguins who had become trapped in an icy ravine, sure to die without human intervention.
Becoming a new father while on the ice. While filming the lifecycle of the penguins, McCrae himself became a father. He did not see his son until the child was seven months old.
The emperors' uncertain future. The emperors breed on frozen sea ice. As ocean temperatures rise, their rookeries are endangered--and so too is this extraordinary species. Indeed in April 2019, the New York Times reported that "The Antarctic's second-largest colony of emperor penguins collapsed ... with more than 10,000 chicks lost, and the population has not recovered."
One year in the wild Antarctic. McCrae's narrative is also wonderfully evokes an extraordinary natural place, from the rare vantage point of someone who has spent every season there.
Wonderfully compelling, filled with surprising depth, insight, and warmth, My Penguin Year is essential listening for animal lovers, amateur naturalists, and fans of true-life adventure tales as well as H is for Hawk and The Shepherd's Life.