DEAR EXECUTOR: A WORKBOOK (Paperback)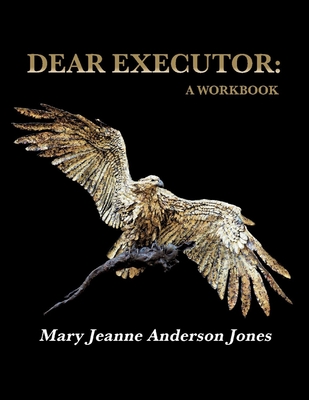 List Price: $20.00
Our Price: $17.00
(Save: $3.00 15%)
Description
---
"Dear Executor: A Workbook" is designed to provide the executor with pertinent information to help settle the writer's eventual estate. It begins by asking for the writer's wishes for his/her obituary, memorial service, burial or cremation. It then
covers the will and legal documents, assets and liabilities, insurance, and persons to contact post-mortem. This workbooks purpose is also to provide the writer's family with the information as well as to ease the executor's task.
About the Author
---
I, Mary Jeanne Anderson Jones, the author of Dear Executor:, at 86 years of age, am of the generation most needy for this type of discipline, the preparation of an estate. The intent with DEAR EXECUTOR: is not to be morbid, but to be practical and helpful.

When this all started, it was PAST time for me to update my will and 5-codicil trust, both executed originally in 1996, also my healthcare directives, and to change my executor from a son who lives in Florida to a daughter who lives 10 minutes away from me and who is thoroughly conversant with my affairs. You would think that a retired investment adviser who preached to her clients the necessity of providing all-important information about her wishes about her obit, memorial service, burial or cremation, and then about assets and liabilities that would be essential after death to the Probate Court, or whatever court the person's state provided to settle an estate, would be up-to date on the essentials that her executor would need in settling her estate. But I was not then, nor am I now. Practice what I do, not what I say.

My lack of discipline in this area is the Number One Reason that I decided DEAR EXECUTOR had to be written. It is the descendant of the LOCATIONS LIST that I used while serving as an investment adviser, but is far more detailed and demanding. My hope is that it will serve as a great incentive for anyone who purchases it and goes to the trouble of filling out the pertinent information. I wanted it to be a workbook, soft cover, non-threatening, and easy to work with by people of all ages, not just by my generation.

It has been many years since I last published a book. While living near Charlottesville, Virginia, I had co-authored a book with the chairman of the University's pharmacology department. The Department of Pharmacology at the University, published it as a biographical study of the eleven chairmen of the department, dating back to Thomas Jefferson's era and then continuing to the mid 1960s. My first, solo work was Congregational Commonwealth, Connecticut, 1636-1662, which tells the story of the founding of Connecticut long ago. Wesleyan University Press published it at the time when I had received my MA from the University of Virginia and had moved to a lovely village near Heidelberg, Germany with my husband and three young children, courtesy of Uncle Sam.

Upon our return to the States I settled our family, got bored, and joined the investment world. While there I did nothing in the field of publications, except for writing buy and sell investment recommendations to clients and later personal financial letters again to clients. I also studied and became an Enrolled Agent of the IRS for ten years, legally able to represent clients in court just as lawyers and CPAs do and a Chartered Financial Analyst.

Then many years later came the idea about DEAR EXECUTOR: and the probability of its becoming an ebook as well as a paperback. It borrows from the experience I had as an Enrolled Agent and the tax knowledge it entailed. It also draws from the investment world in asking for assets and liabilities and in understanding peoples' financial situations.

Hopefully, DEAR EXECUTOR: will serve as an incentive for the financial member of a family to share his/her knowledge with the other half and so not to leave the family unknowing about their situation after his/her death and in a chaotic frame of mind, facing the unknown. With it I wish to share my life as a published author, an enrolled agent, an investment adviser, and member of a family, all of which are participants in the creation of DEAR EXECUTOR:.