The Babur Nama: Introduction by William Dalrymple (Everyman's Library Classics Series) (Hardcover)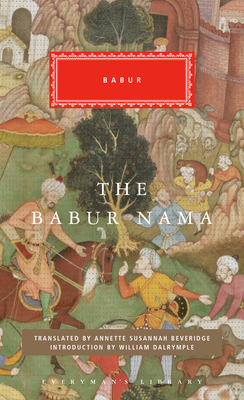 List Price: $30.00
Our Price: $25.50
(Save: $4.50 15%)
Warehouse, In Stock | Usually Ships in 1-5 Days | New
Description
---
"If you only read one autobiography from a sensitive 16th-century warlord this year, make it this one." —The New York Times

A hardcover edition of the colorful memoirs of Babur—founder and first emperor of the Mughal dynasty—that is "justly considered a masterpiece" (The Wall Street Journal).

Zahiru'd-din Muhamad Babur (1483–1530), a poet-prince from Central Asia, was the author of one of the most remarkable autobiographies in world literature. The Babur Nama reveals him as not only a military genius but also a ruler unusually magnanimous for his time, cultured, witty, and possessing a talent for poetry, an adventurous spirit, and an acute eye for natural beauty.

Babur ascended the throne of Fergana, in what is now Uzbekistan, when he was twelve years old. He eventually invaded India and founded the Mughal dynasty, which would dazzle the world for three centuries. Babur left behind a detailed and colorful record of his life, written in simple and unpretentious prose, that has fascinated readers for hundreds of years. But his self-portrait goes beyond the events of a dramatic life; on the page, his restless energy and ambition are balanced by modesty, regret for his failures, and frankness about his experiences with depression and grief in response to tragedy. The Babur Nama is both a lively chronicle of extraordinary historical events and a deeply personal memoir whose unusual honesty and sensitivity has given it enduring appeal.
About the Author
---
BABUR (1483-1530), born Zahir ud-Din Muhammad, was the founder and first emperor of the Mughal dynasty. He was a direct descendant of Emperor Timur (Tamerlane) from what is now Uzbekistan.

WILLIAM DALRYMPLE is an award-winning British historian and writer based in Delhi, India, as well as a BAFTA-award-winning broadcaster and critic. His books have won the Duff Cooper Memorial Prize, the Thomas Cook Travel Book Award, the Sunday Times Young British Writer of the Year Award, and the Hemingway, the Kapuscinski, and the Wolfson Prizes. He has been four times longlisted and once shortlisted for the Samuel Johnson Prize for nonfiction. In the spring of 2015 he was appointed the O. P  Jindal Distinguished Lecturer at Brown University.
Praise For…
---
"The reason The Babur Nama speaks intimately across the centuries — the reason this book has been compared to the diaries of Samuel Pepys — is how intelligent, humane, self-critical and even light-souled it is. . . . Babur is charming and surprisingly modern company on the page. His name, among Western readers, deserves to be better known. If you only read one autobiography from a sensitive 16th-century warlord this year, make it this one." –The New York Times

"What a story [these] memoirs tell. . . . As The Babur Nama shows in disarming detail, as a warrior and emperor Babur was both murderous (of his enemies) and modest (in his victories). He was also an aesthete, drinking wine . . .and writing elegant Persian poetry. . . . He is candid—in a most modern way—about his feelings. . . . Babur had a flair for description that matched his battlefield abilities." –The Wall Street Journal