The K&W Guide to Colleges for Students with Learning Differences, 13th Edition: 353 Schools with Programs or Services for Students with ADHD, ASD, or Learning Disabilities (College Admissions Guides) (Paperback)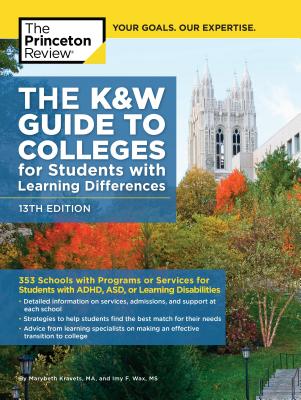 List Price: $31.99
Our Price: $27.19
(Save: $4.80 15%)
Description
---
FIND THE RIGHT SCHOOL FOR YOUR SPECIFIC NEEDS.
 
Hundreds of thousands of students with ADHD, Autism Spectrum Disorder, or other learning differences head to college every year. This comprehensive guide makes it easy for those students and their families and guidance counselors to tackle the daunting process of finding the school that fits their needs best. 
 
This indispensable resource book for students, parents, and professionals includes:
   • 353 school profiles with targeted information on services, admissions, and support at each school
   • Advice from learning specialists on making an effective transition to college
   • Services available to learning-disabled students at each college: tutors, note-takers, oral exams, extended test time, and more
   • Policies and procedures regarding course waivers or substitutions
   • Strategies to help students find the best match for their needs

The 13th edition of The K&W Guide also includes a Quick Contact Reference List with essential program information for another 1,000 schools, as well as an addendum with other transition options for students who may not be college-bound, but who want to continue to pursue independent living skills and education beyond high school.
About the Author
---
The experts at The Princeton Review have been helping students, parents, and educators achieve the best results at every stage of the education process since 1981. The Princeton Review has helped millions succeed on standardized tests, and provides expert advice and instruction to help parents, teachers, students, and schools navigate the complexities of school admission. In addition to classroom courses in over 40 states and 20 countries, The Princeton Review also offers online and school-based courses, one-to-one and small-group tutoring as well as online services in both admission counseling and academic homework help.