Word by Word: The Secret Life of Dictionaries (Paperback)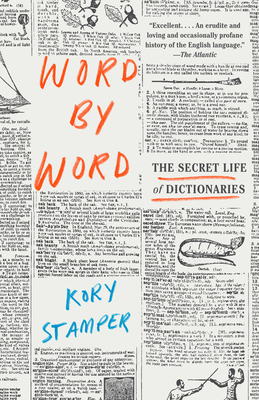 List Price: $16.95
Our Price: $14.41
(Save: $2.54 15%)
Description
---
"We think of English as a fortress to be defended, but a better analogy is to think of English as a child. We love and nurture it into being, and once it gains gross motor skills, it starts going exactly where we don't want it to go: it heads right for the goddamned electrical sockets."
 
With wit and irreverence, lexicographer Kory Stamper cracks open the obsessive world of dictionary writing, from the agonizing decisions about what to define and how to do it to the knotty questions of ever-changing word usage.
 
Filled with fun facts—for example, the first documented usage of "OMG" was in a letter to Winston Churchill—and Stamper's own stories from the linguistic front lines (including how she became America's foremost "irregardless" apologist, despite loathing the word), Word by Word is an endlessly entertaining look at the wonderful complexities and eccentricities of the English language.
About the Author
---
Kory Stamper is a lexicographer who spent almost two decades writing dictionaries at Merriam-Webster. Her writing has appeared in The Guardian, The New York Times, New York Magazine, and The Washington Post, and she blogs regularly on language and lexicography at www.korystamper.com.
Praise For…
---
"[An] eloquent love letter to letters themselves. . . . A cheerful and thoughtful rebuke of the cult of the grammar scolds." —The Atlantic

"Both memoir and exposé, an insider's tour of the inner circles of the mysterious fortress that is Merriam-Webster. Stamper leads us through her own lexicographical bildungsroman, exploring how she fell in love with words and showing us how the dictionary works, and how it interacts with the world that it strives to reflect." —Adrienne Raphel, The New Yorker

"As a writer, Stamper can do anything with words. . . . You will never take a dictionary entry for granted again." —Mary Norris, best-selling author of Between You & Me: Confessions of a Comma Queen
 
"A fascinating, even enthralling, examination of the way words actually work in our language, warts and all." —The A.V. Club

"An unlikely page-turner. . . . Stamper displays a contagious enthusiasm for words and a considerable talent for putting them together." —The New Yorker
 
"Word by Word cherishes the dexterity involved in making dictionaries, and . . . proves refreshingly attentive to its human stories. Part of its quirky charm is a delight in the idiosyncrasies of others—not least Merriam-Webster's many correspondents." —The Wall Street Journal
 
"Packed with the kind of word-lore that keeps readers and writers up late at night: Where do our words come from? How and why do their meanings change year to year, century to century?" —The Dallas Morning News
 
"Great fun. . . . [Stamper] brings both zest and style. . . . An exuberant mash note to language." —The Times Literary Supplement
 
"[Word by Word] mixes memoiristic meditations on the lexicographic life along with a detailed description of the brain-twisting work of writing dictionaries." —The New York Times
 
"Anyone who loves words or has opinions about them will have fun in this sandbox of a book." —The Washington Times
 
"A delectable feast. . . . [Stamper] declaims elegantly on the beauty and necessity of dialect, how to evaluate emerging words, and many other topics. [She] is at her best when entertaining the reader with amusing etymologies, celebrating the contentiousness of grammar, and quoting annoying emails from an opinionated public," —Publishers Weekly (starred review)
 
"Fascinating. . . . Part memoir, part workplace chronicle and part history lesson." —The New York Post
 
"A lexicographical bildungsroman. . . . [Stamper] presents passionate, precise, good-humored (and bad-humored) descriptions of every stage of the process that goes into making an entry." —The Chronicle of Higher Education
 
"[Word by Word] entertains as much as it instructs." —Baltimore Sun
 
"A captivating book." —Lincoln Journal Star
 
"Idiosyncratic and engaging." —The Gazette (Cedar Rapids, IA)
 
"A smart, sparkling and often hilarious valentine to the content and keepers of dictionaries. . . . A paean to the craft of lexicography.'" —Shelf Awareness
 
"A funny inside look at how new words make their way into dictionaries, an irreverent take on the history of English itself, and a memoir of [Stamper's] own journey." —Daily Hampshire Gazette
 
"[A] marvelous insight into the messy world behind the tidy definitions on the page. . . . By turns amusing, frustrating, surprising, and above all, engrossing. It is perhaps unsurprising, given her line of work, that Stamper employs words with delightful precision in her writing." —Booklist