Almost Home: Helping Kids Move from Homelessness to Hope (Paperback)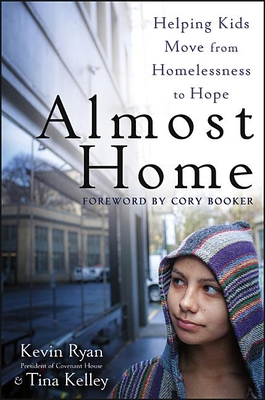 List Price: $19.99
Our Price: $16.99
(Save: $3.00 15%)
Warehouse, In Stock | Usually Ships in 1-5 Days | New
Description
---
Inside the lives of homeless teens--moving stories of pain and hope from Covenant House
Almost Home tells the stories of six remarkable young people from across the United States and Canada as they confront life alone on the streets. Each eventually finds his or her way to Covenant House, the largest charity serving homeless and runaway youth in North America. From the son of a crack addict who fights his own descent into drug addiction to a teen mother reaching for a new life, their stories veer between devastating and inspiring as they each struggle to find a place called home.
Includes a foreword by Newark Mayor Cory Booker
Shares the personal stories of six homeless youths grappling with issues such as drug addiction, family violence, prostitution, rejection based on sexual orientation, teen parenthood, and aging out of foster care into a future with limited skills and no support system
Gives voice to the estimated 1.6 million young people in the United States and Canada who run away or are kicked out of their homes each year
Includes striking photographs, stories of firsthand experiences mentoring and working with homeless and troubled youth, and practical suggestions on how to get involved
Discusses the root causes of homelessness among young people, and policy recommendations to address them
Provides action steps readers can take to fight youth homelessness and assist individual homeless young people
Written by Kevin Ryan, president of Covenant House, and Pulitzer Prize nominee and former New York Times writer Tina Kelley
Inviting us to get to know homeless teens as more than an accumulation of statistics and societal issues, this book gives a human face to a huge but largely invisible problem and offers practical insights into how to prevent homelessness and help homeless youth move to a hopeful future. For instance, one kid in the book goes on to become a college football player and counselor to at-risk adolescents and another becomes a state kickboxing champion. All the stories inspire us with victories of the human spirit, large and small. A portion of the proceeds from the sale of each book will help support kids who benefit from Covenant House's shelter and outreach services.
About the Author
---
KEVIN RYAN is President of Covenant House International, which reaches 56,000 at-risk and street youth in more than twenty cities across six countries. Ryan is one of the country's most respected child advocates and his work has been covered by the "New York Times" and the "Washington Post." He has appeared on "Today, Good Morning America, 60 Minutes, Anderson Cooper 360, " and other national media.TINA KELLEY was a staff writer for the "New York Times "for ten years and shared in a Pulitzer Prize for the paper's coverage of the September 11 attacks. She wrote 121 "Portraits of Grief" profiles of the victims and is the author of two books of poetry, "The Gospel of Galore" and "Precise."