Coming Bond Market Collapse (Hardcover)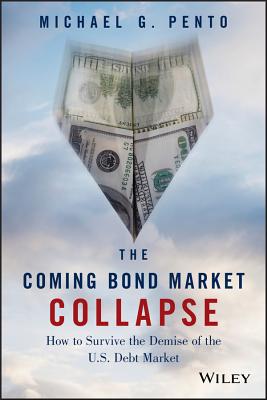 $31.45

Warehouse, In Stock | Usually Ships in 1-5 Days | New
Description
---
The coming financial apocalypse and what government and individuals can do to insulate themselves against the worst shocks
In this controversial book a noted adherent of Austrian School of Economics theories advances the thesis that the United States is fast approaching the end stage of the biggest asset bubble in history. He describes how the bursting of the bubble will cause a massive interest rate shock that will send the US consumer economy and the US government--pumped up by massive Treasury debt--into bankruptcy, an event that will send shockwaves throughout the global economy. Michael Pento examines how policies followed by both the Federal Reserve and private industry have contributed to the impending interest rate disaster and highlights the similarities between the US and European debt crisis. But the book isn't all doom and gloom. Pento also provides well-reasoned solutions that, government, industry and individuals can take to insulate themselves against the coming crisis.
Paints an alarmingly vivid picture of the massive interest rate shock which soon will send consumers and the government into bankruptcy
Backed by a wealth of historical and economic data, Pento explains how the bubble was created and what the U.S. can do to mitigate the impending crisis
Provides investors with sound strategies for protecting themselves and their assets against the coming financial apocalypse
Explains why retirees, in particular, will be at risk as real estate prices decline, pensions weaken, and the bond bubble bursts
About the Author
---
MICHAEL G. PENTO is the President and founder of Pento Portfolio Strategies (PPS). PPS is a Registered Investment Advisory Firm that provides money management services and research for individual and institutional clients. Michael is a well-established specialist in markets and economics and a regular guest on CNBC, CNN, Bloomberg, Fox Business Network, and other international media outlets. His market analysis can also be read in most major financial publications, including the Wall Street Journal. He also acts as a financial columnist for Forbes, contributor to TheStreet.com, and a blogger at the Huffington Post. Prior to starting PPS, Michael served as a senior economist and vice president of the managed products division of Euro Pacific Capital. Additionally, Michael has worked at an investment advisory firm where he helped create ETFs and UITs that were sold throughout Wall Street. Earlier in his career, he spent two years on the floor of the New York Stock Exchange. He has carried Series 7, 63, 65, 55, and Life and Health Insurance Licenses. Michael graduated from Rowan University in 1991.