J.K. Lasser's Guide to Self-Employment: Taxes, Strategies, and Money-Saving Tips for Schedule C Filers (Paperback)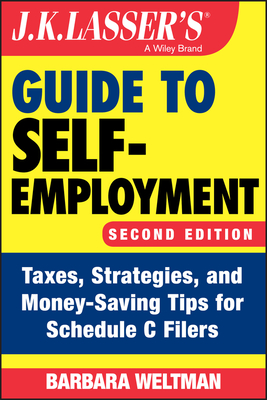 List Price: $19.95
Our Price: $18.95
(Save: $1.00 5%)
Description
---
What every self-employed person needs to know about their taxes
If you're self-employed, chances are the majority of your time is spent finding new customers or clients, servicing existing ones, and handling each and every aspect of your business. Freelancers, independent contractors, gig economy participants, and other individuals working for themselves need to be aware of their responsibilities when it comes to paying their taxes. Even if you have an accountant or use tax preparation software, you may not be aware of all the deductions and credits you are entitled to. That's where the experts at J.K. Lasser come in.
The second edition of J.K. Lasser's Guide to Self-Employment helps you file your taxes correctly, accurately, and on time. Using clear, jargon-free language, this bestselling guide explains the legal and financial implications of self-employment and shows you how to keep as much of your hard-earned money as legally possible. You will learn the essentials of tax reporting and see what types of valuable tax-saving deductions and credits you can claim. Fully updated to reflect changes in the tax code, this new edition features practical examples, easy-to-use worksheets, real-world tips, expert advice, and much more. A must-have resource for anyone who fills out a Schedule C at tax time, this book:
Offers effective strategies for reducing your tax bill and increasing your cash flow
Presents a detailed overview of the Schedule C that explains when, where, and what to file
Explains how to protect yourself on a tax-advantaged basis with insurance, health coverage, and retirement plans
Features advice on growing your business through technology and education programs
Provides new and updated information on the qualified business income deduction, getting certified for government contracts, recent legislation that protects freelancers, and more
Don't let being a solopreneur and filing your taxes be a source of stress and anxiety for you and your business. J.K. Lasser's Guide to Self-Employment: Taxes, Strategies, and Money-Saving Tips for Schedule C Filersis here to help.
About the Author
---
BARBARA WELTMAN is an attorney and a nationally recognized expert in taxation for small businesses, as well as the author of many top-selling books on taxes and finance, including J.K. Lasser's Small Business Taxes and J.K. Lasser's 1001 Deductions and Tax Breaks. She is also the publisher of Idea of the Day(R), a guest columnist for WSJ.com and contributor to SBA.gov, and is quoted regularly in major publications (including the New York Times, the Wall Street Journal, and USA News). Visit her at www.BigIdeasforSmallBusiness.com.