Performance Management in Healthcare: From Key Performance Indicators to Balanced Scorecard (Himss Book) (Paperback)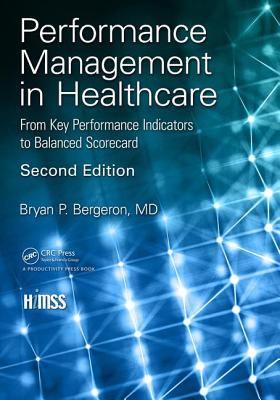 This item is backordered and not currently available. Please contact us for an estimated availability date.
Description
---
Performance management, often referred to as process management, is a strategy that can be used to achieve an optimum mix of quality, safety, patient satisfaction and solvency. The basis of performance management is the effective use of resources, as measured by quantifying processes and outcomes using key performance indicators (KPIs) - core measures that gauge the performance of an organization in particular areas. There is more to performance management than selecting a few KPIs from a list and feeding them into a graphical dashboard system. It's about behavior change, leadership, and vision.
Written for administrators, clinical staff, process improvement managers and information technology personnel of healthcare organizations, this second edition provides the knowledge necessary to provide the leadership and vision for a performance measurement initiative. This practical resource provides a high-level review of the quality/safety initiatives in healthcare, describes the implementation process from an IT perspective, and offers high-level clinical, financial and cultural details. It features an extensive listing of clinical and non-clinical KPIs: a glossary including financial, medical, and operational terms; and appendices of organizations and sources of indicators and benchmarks.
About the Author
---
Bryan Bergeron, MD, writes, speaks and consults about business technology and the intersection of computers and medicine. A Fellow of the American College of Medical Informatics and the author of more than two dozen books, several hundred articles, and a dozen software packages, Bryan's expertise extends from robotics to digital-data management and from medical informatics to modeling and simulation. He is named inventor on eleven US patents, including several on Translational Reality. Bryan has held a variety of different teaching and administrative positions at Harvard Medical School, MIT, and HST and Massachusetts General Hospital Institute for Healthcare Professionals - from Research Affiliate to Acting Director, and has taught courses ranging from cardiovascular pathophysiology and pulmonary pathophysiology to healthcare informatics. For the past twenty years, he has headed Archetype Technologies Inc., which specializes in the development and evaluation of new technologies and intellectual property. Bryan has worked with technology startups in areas ranging from surgical robotics and artificial intelligence to user-interface design and 3D modeling and simulation. As chief scientist, he designed and developed avatar-based clinical simulations, leveraging voice recognition and medical expert systems. He also designed and developed intelligent tutoring systems and serious games for training military and civilian first responders for nuclear, chemical and biological events. Bryan founded his first company, Home Health Software, in 1984, with several commercially successful software titles. This was followed by HeartLab, the first commercial multimedia patient simulator on a microcomputer. In addition to software, Bryan has designed and developed microprocessor-based hardware and specialized sensors. He has successfully secured and directed grants from the National Institutes of Health (NIH), Small Business Innovation Research (SBIR), Medical Boards and the Department of Defense (DoD). Past and ongoing activities range from developing intelligent tutoring systems, augmented reality systems, and humanoid robotic systems to open-source physiology engines. His twenty plus books, published by McGraw-Hill, John Wiley and Sons, Inc. and Prentice Hall, among others, range from business and technology to clinical medicine and applied medical informatics. He was founding Editor-in-Chief of e.MD and on the editorial boards of fourteen medical/technology journals. For over a decade, he has served as editor-in-chief of Servo Magazine, dedicated to the next generation of robotics and Nuts & Volts Magazine, written for the hands-on electronics hobbyist. Bryan completed his formal education with a Post-Doctoral Fellowship in Medical Informatics, including advanced courses in computer science, at Harvard in 1987. He received his BS degree cum laude from Tulane University and his MD from Louisiana State University Medical Center. He also performed research in Neurobiology at the Marine Biology Laboratory at Woods Hole. In addition, at an early age he was active in amateur radio, including EME (earth-moon-earth) and satellite communications, obtained a commercial communications licenses with RADAR endorsement and worked as a technician on offshore microwave communications systems, ship-to-shore RADAR systems, and computer systems.