What to Say to Kids When Nothing Seems to Work: A Practical Guide for Parents and Caregivers (Paperback)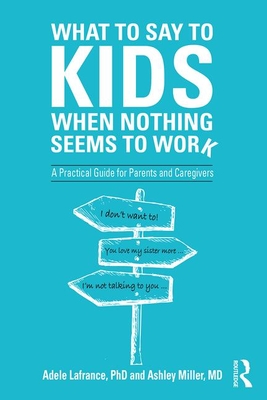 This item is backordered and not currently available. Please contact us for an estimated availability date.
Description
---
*Finalist for Best Overall Non-Fiction and Best Parenting & Family Book in the 2020 International Book Awards *
What to Say to Kids When Nothing Seems to Work offers parents an effective, step-by-step guide to some of the most common struggles for kids aged 5-12. Written by mental health professionals with over 30 years' experience listening to kids' thoughts and feelings, this book provides a framework to explore new ways of responding to your child that will help them calm down faster and boost their resilience to stress.
With a dose of humor and plenty of real-life examples, the authors will guide you to "build a bridge" into your child's world to make sense of their emotions and behavior. Sample scenarios and scripts are provided for you to customize based on your caregiving style and your child's personality. These are then followed by concrete support strategies to help you manage current and future situations in a way that leaves everyone feeling better. Chapters are organized by common kid-related issues so you can quickly find what's relevant to you.
Suitable for parents, grandparents, and other caregivers of children and pre-teens, as well as professionals working closely with families, What to Say to Kids When Nothing Seems to Work is an accessible resource for efficiently navigating the twists, turns, and sometimes total chaos of life with kids.
About the Author
---
Adele Lafrance, PhD, is a clinical psychologist, research scientist, and co-developer of Emotion-Focused Family Therapy. She offers workshops for the general public and mental health agencies worldwide. Ashley Miller, MD, is a child psychiatrist at BC Children's Hospital and a clinical assistant professor of psychiatry at the University of British Columbia where she is co-director of family therapy training for psychiatry residents.