Integrating Sel Into Your Ela Curriculum: Practical Lesson Plans for Grades 6-8 (Hardcover)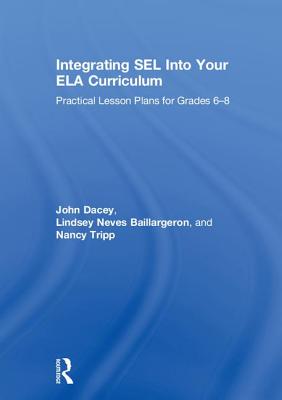 $132.00
This item is backordered and not currently available. Please contact us for an estimated availability date.
Description
---
In this helpful book, you'll learn how to seamlessly infuse social-emotional learning into your middle school English language arts curriculum. With the growing emphasis on student assessment and learning outcomes, many teachers find they lack the time and the encouragement to begin implementing SEL techniques into their instruction. This book offers a solution in the form of practical lesson plans--all of which can be implemented without tedious preparation and all of which are designed to boost self-awareness, self-management, social awareness, and other key SEL skills. Your students will discover how to...
Practice mindfulness and think positively,
Exert self-control and employ self-management skills,
Become independent thinkers and make sound decisions,
Be resilient and develop a growth mindset,
Improve relationship skills and avoid bullying,
Be authentic and develop leadership skills,
And much more
Each activity is ELA-focused, so students will develop social-emotional learning while meeting key literacy objectives such as reading a nonfiction speech, looking closely at symbolism, analyzing Shakespearean sonnets, and more. The book also includes reproducible tools for classroom use. You can photocopy them or download them as eResources from www.routledge.com/9781138345263.
About the Author
---
John Dacey is Professor Emeritus of the Lynch School of Education at Boston College in Massachusetts. He is an expert on SEL and anxiety disorders and has a nationally tested COPE program used by parents, teachers, and psychotherapists to relieve the symptoms of anxiety syndrome. He is the author of 18 books on anxiety, creativity, and human development. Lindsey Neves Baillargeron teaches English language arts to grades 6 through 12 in the North Attleboro Public School District in Massachusetts. She has integrated SEL into curricula, presented professional development workshops on emotional intelligence, and served on the SEL District Steering Committee. She has also served as a member of the Social-Emotional Learning Alliance for Massachusetts.Nancy Tripp has taught general education and inclusion English language arts, as well as language-based classes and Tier 2 reading instruction to grades 5 through 8 for 25 years in Westport, Massachusetts. She loves curriculum work and has presented numerous professional development workshops, study groups, and summer institutes.