Recovering from a First Episode of Psychosis: An Integrated Approach to Early Intervention (Hardcover)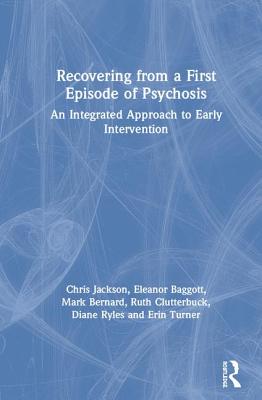 This item is backordered and not currently available. Please contact us for an estimated availability date.
Description
---
Despite years of research, debate and changes in mental health policy, there is still a lack of consensus as to what recovery from psychosis actually means, how it should be measured and how it may ultimately be achieved. In Recovering from a First Episode of Psychosis: An Integrated Approach to Early Intervention, it is argued that recovery from a first episode of psychosis (FEP) is comprised of three core elements: symptomatic, social and personal. Moreover, all three types of recovery need to be the target of early intervention for psychosis programmes (EIP) which provide evidence-based, integrated, bio-psychosocial interventions delivered in the context of a value base offering hope, empowerment and a youth-focused approach.
Over the 12 chapters in the book, the authors, all experienced clinicians and researchers from multi-professional backgrounds, demonstrate that long-term
recovery
needs to replace short term
remission
as the key target of early psychosis services and that, to achieve this, we need a change in the way we deliver EIP: one that takes account of the different stages of psychosis and the 'bespoke' targeting of integrated medical, psychological and social treatments during the 'critical period'.
Illustrated with a wealth of clinical examples
,
this book will be of great interest to clinical psychologists, psychiatrists, psychiatric nurses and other associated mental health professionals.
About the Author
---
Chris Jackson is a consultant clinical psychologist and clinical lead for the Birmingham EIP service, Forward Thinking Birmingham. He has been involved in the development of psychological therapies for FEP for the last 25 years and has co-authored books on schizophrenia and early intervention approaches to first episode psychosis. His current interests include recovery, suicide prevention and emotional dysfunction following FEP, as well as refining the delivery of EIP services.Eleanor Baggott is a UK-trained clinical psychologist. She worked at Birmingham and Solihull EIP for five years before emigrating to New Zealand. She is currently the senior clinical psychologist at Totara House, the EIP service in Christchurch, and sits on the executive committee of the NZ EIP Society. She has a special interest in working with families and using mindfulness and acceptance-based approaches. Mark Bernard is a principal clinical psychologist in the North Birmingham Early Intervention Psychosis Team within Forward Thinking Birmingham, UK. His current interests include the application of psychological approaches following first episode psychosis, the use of Routine Outcome Measures within Early Intervention Psychosis services, and the development of clinical pathways for At Risk Mental States. Ruth Clutterbuck is a senior clinical psychologist in the East Birmingham Early Intervention for Psychosis Team, Forward Thinking Birmingham, UK. She has a special interest in social recovery following a first episode psychosis and leads on social recovery strategy for Birmingham EIP services.Diane Ryles qualified as a mental health nurse in North Staffordshire 28 years ago. She was an original member of the West Midlands IRIS group and worked in Birmingham EIP for 14 years as a care co-ordinator, lead nurse and manager. She is now the matron for recovery services, and a trainer in family work and suicide prevention. She is also a carer for a relative with psychosis.Erin Turner is a consultant psychiatrist in the Early Intervention for Psychosis Service, Solihull, UK, Co-chair of West Midlands EIP Expert Advisory Group and trustee of mental health charity 'Beyond Shame, Beyond Stigma'. She led the development of the 'Silver Linings' app for young people recovering from psychosis and is a board member of HEARTH, Theatre Company. Her interests include promoting collaborative compassionate care and using the arts to reduce stigma and demystify psychosis.