Milton's Italy: Anglo-Italian Literature, Travel, and Connections in Seventeenth-Century England (Routledge Studies in Renaissance Literature and Culture) (Hardcover)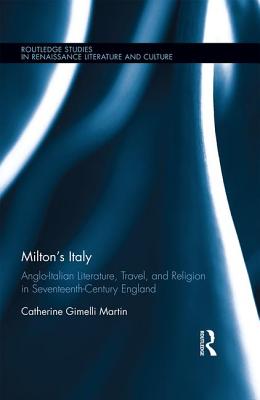 This item is backordered and not currently available. Please contact us for an estimated availability date.
Description
---
This book joins a growing trend toward transnational literary studies and revives a venerable tradition of Anglo-Italian scholarship centering on John Milton. Correcting misperceptions that have diminished the international dimensions of his life and work, it broadly surveys Milton's Italianate studies, travels, poetics, politics, and religious convictions. While his debts to Machiavelli and other classical republicans are often noted, few contemporary critics have explored the Italian sources of his anti-papal, anti-episcopal, and anti-formalist religious outlook. Relying on Milton's own testimony, this book explores its roots in Dante, Petrarch, Ariosto, and that great "Venetian enemy of the pope," Paolo Sarpi, thereby correcting a recent tendency to make native English contexts dominate his development. This tendency is partly due to a mistaken belief that Italy was in steep decline during and after Milton's travels of 1638-1639, the period immediately before he produced his prose critiques of the English Church, its canon law, and its censorship. Yet these were also fundamentally "Italian" issues that he skillfully adapted to meet contemporary English needs, a practice enabled by his extraordinarily positive experience of the Italian language, cities, academies, and music, the latter of which ultimately influenced Milton's "operatic" drama, Samson Agonistes. Besides republicanism and theology (radical doctrines of free grace and free will), equally strong influences treated here include Italian Neoplatonism, cosmology, and romance epic. By making these traditions his own, Milton became what John Steadman once described as an "Italianate Englishman" whose classical "literary tastes and critical orientation...were...to a considerable extent" molded by Italian critics (1976), a view that is fully credited and updated here.
About the Author
---
Catherine Gimelli Martin is Professor of English at the University of Memphis, USA.