Managing Length of Stay Performance: Top 10 Practical Steps for Reducing the Utilization of Clinical Services (Paperback)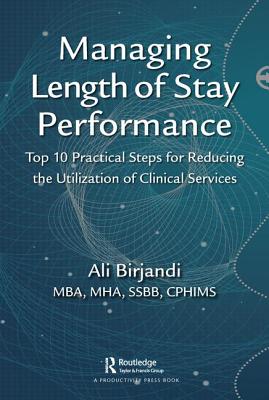 Description
---
One focus of every hospital case management department or utilization management team is patient length of stay (LOS). Hospitals get paid by Medicare and most Medicaid and third party payers based on a formula that includes a number of elements. The formula is specific to categories of diagnoses referred to as Diagnosis Related Groups (DRG's).
The payment for the DRG's are predetermined and the amount doesn't change regardless of the cost of care. The only way for hospitals to make a profit is to provide care for the patient in a manner that is medically appropriate and gets the patient well enough to get safely out of the hospital, but at the same time keeping costs below the amount of the DRG payment. If costs exceed the payment, then the hospital will lose money on that patient.
For hospitals to know how they're doing, they need a standard for comparison. Medicare generally tracks and reports length of stay as a Geometric Mean Length of Stay or GMLOS which uses a statistical application that is calculated by multiplying all of the lengths of stay and then taking the nth root of that number (where n=number of patients). Most hospitals measure their own length of stay as an Average Length of Stay or ALOS which is a simple arithmetic mean or average.
This book focuses on the next generation of initiatives to improve LOS (length of stay) performance in hospitals. In the last 20 years many organizations have significantly improved the management of labor and non-labor expenses. The new frontier of expense reduction initiatives is in the utilization of clinical services. A one day reduction in LOS in a 500-bed facility represents about $1.5M per month in savings. This book showcases the most innovative solutions that have been implemented in the industry to reduce LOS to the proverbial GMLOS. This book also provides easy, practical solutions that will reduce LOS within 120 days.
About the Author
---
Ali Birjandi is currently VP of Performance Improvement at CHRISTUS Trinity Mother Frances Health System. He is an accomplished leader with significant career progression culminating in a senior management positions in a nationally recognized 2.5 billion dollar multi-facility integrated delivery system. His expertise is in the ability to develop enterprise-wide performance improvement strategies and assist business unit leaders in converting them into tactical action plans. He was formerly the COO Palm Beach Garden Tenet Hospital, VP of Operations Improvement ProMedica Health System and Director of Business Process Improvement Carle Clinic and Hospital. He holds an MBA and an MHA from the University of Florida. He holds the CPHIMS certification from HIMSS and a ASQ Six Sigma Black Belt.