Transforming Emotional Pain in Psychotherapy: An emotion-focused approach (Hardcover)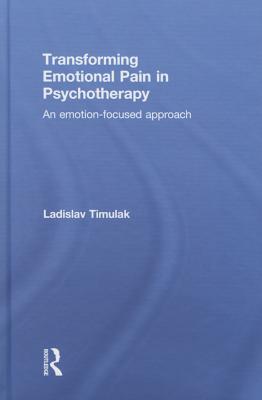 This item is backordered and not currently available. Please contact us for an estimated availability date.
Description
---
Emotion-focused therapy is a research-informed psychological therapy that to date has mainly been studied in the context of depression, trauma and couple distress. The evidence suggests that this therapy has a lasting and transformative effect. Ladislav Timulak presents EFT as a particular therapeutic approach that addresses psychological human suffering, offering a view that puts more emphasis on attending to the distress, rather than avoiding or suppressing it.
Focusing on the latest developments in EFT, Transforming Emotional Pain in Psychotherapy presents a theory of human suffering and a model of therapy that addresses that suffering. The model of suffering assumes that the experienced emotional pain is a response to an injury that prevents or violates the fulfilment of the basic human needs of being loved, safe, and acknowledged. This book focuses on a particular way of transforming emotional pain in psychotherapy through: helping the client to tolerate the pain; assisting the client to identify the core of the difficult emotional experiences; identifying the needs connected to the core pain which are unmet or being violated, and responding (with compassion and protective anger) to the underlying needs of the client that transforms the original pain.
Transforming Emotional Pain in Psychotherapy provides an account of how emotional pain can be conceptualised and how it can be addressed in therapy. It provides practical tips for therapists working with emotional pain and shows how it can then be made more bearable and transformed allowing the client to be more sensitive to the pain of others, and to seek support when needed. This book will be essential reading for clinical and counselling psychologists, psychotherapists and counsellors in practice and training, as well as for fully qualified professionals undergoing further training in EFT.
About the Author
---
Ladislav Timulak is Course Director of the Doctorate in Counselling Psychology at Trinity College Dublin. He is the author of several books, and a number of book chapters and research papers. He is involved in the training of psychologists and psychotherapists, and maintains a part-time private practice.