Mad as Hell: The Making of Network and the Fateful Vision of the Angriest Man in Movies (Paperback)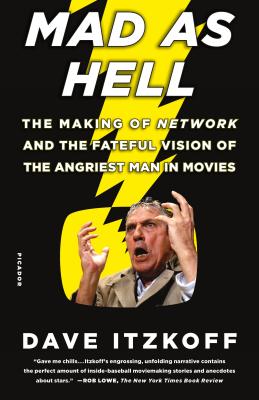 List Price: $22.00
Our Price: $18.70
(Save: $3.30 15%)
Warehouse, In Stock | Usually Ships in 1-5 Days | New
Description
---
"Dave Itzkoff takes us on an extraordinary journey, and in the process reveals Chayefsky's prognosis for TV, a prognosis we've chosen to ignore even as it's come true before our eyes."—Forbes

"I'm mad as hell, and I'm not going to take this anymore!"

Those words, spoken by an unhinged anchorman named Howard Beale, "the mad prophet of the airwaves," took America by storm in 1976, when Network became a sensation. With a superb cast (including Faye Dunaway, William Holden, Peter Finch, and Robert Duvall) directed by Sidney Lumet, the film won four Oscars and indelibly shaped how we think about corporate and media power.

In Mad As Hell, Dave Itzkoff of The New York Times recounts the surprising and dramatic story of how Network made it to the screen, and of Paddy Chayefsky, the tough, driven, Oscar-winning screenwriter who envisioned a world—outlandish for its time—that is all too real today. Itzkoff vividly re-creates the action behind the camera at a time of swirling cultural turmoil. The result is a riveting account that enriches our appreciation of this prophetic and still-startling film.
About the Author
---
Dave Itzkoff is the author of Mad as Hell, Cocaine's Son, and Lads. He is a culture reporter at The New York Times, where he writes regularly about film, television, theater, music, and popular culture. He previously worked at Spin, Maxim, and Details, and his work has appeared in GQ, Vanity Fair, Wired, and other publications. He lives in New York City.
Praise For…
---
"Gave me chills . . . Itzkoff's engrossing, unfolding narrative contains the perfect amount of inside-baseball moviemaking stories and anecdotes about stars." —Rob Lowe, The New York Times Book Review

"Dave Itzkoff takes us on an extraordinary journey, and in the process reveals Chayefsky's prognosis for TV, a prognosis we've chosen to ignore even as it's come true before our eyes." —Forbes

"Absorbing and revealing." —USA Today

"A compelling portrait." —Details

"Briskly readable." —The San Francisco Chronicle

"Fun . . . Offers a vivid portrait . . . [and] great anecdotes." —Maureen Dowd, The New York Times

"[A] compellingly told story of the making and cultural effect of the 1976 Hollywood satire of the TV industry [and] a solid behind-the-scenes movie book . . . Fans of the film will find the book irresistible." —Kirkus Review

"Network, the satirical masterpiece that won four Academy Awards in 1976, remains a cultural touchstone . . . [and in Mad as Hell] Itzkoff peppers his straightforward and balanced narrative with plenty of juicy anecdotes . . . but Itzkoff's real achievement is in his chilling analysis of Network as prophecy demonstrating through interviews with Anderson Cooper, Stephen Colbert, Bill O'Reilly, and others that Chayefsky's satire has become our reality." —Publishers Weekly

"Absorbing . . . [Chayefsky] kept a passion for the worth of the common person throughout his career, and every insult to human dignity infuriated him . . . A making-of film book that's also a piquant biography." —Booklist

"Dave Itzkoff has written a sensational and definitive book about how the twentieth century's most important screenwriter came to write the twentieth century's most explosive movie. It's a loving and intelligent examination of what happens when talent and skill take common pain and anger and focus it into a magnificent work of art. I believe this is the first thing written about Paddy Chayefsky that Chayefsky would have liked. Watch Network and read this book." —Aaron Sorkin, creator of The West Wing and The Newsroom and screenwriter of The Social Network

"Network is still a movie worth arguing about, and Dave Itzkoff shows us not just how this movie got made, but how, step by step and line by brilliant, argumentative line, it got written. This is one of the most rewarding books I've read about how a script evolves, and a tough, true and unsparing portrait of an extraordinary writer." —Mark Harris, author of Pictures at a Revolution: Five Movies and the Birth of the New Hollywood

"Dave Itzkoff does a terrific job of bringing this signal moment in movie history to life, conveying the larger significance without losing sight of the crazy day-to-day stuff that goes into the process--the egos, uncertainty, desire, money, and power struggles that make us love to read about movie-making. And he does it all with an intensity and passion Paddy Chayefsky would admire." —Julie Salamon, author of The Devil's Candy and Wendy and the Lost Boys

"This is that rarest of the 'biography of a movie' genre: the one that allows you to enjoy, in new ways you never dreamt of, the greatness of a perfect, prophetic film like Network." —Keith Olbermann

"Dave Itzkoff's account of the making of Network, Paddy Chayefsky's prescient if mordant x-ray of network news on its way down from its postwar heights to the pabulum it is today, makes for riveting reading." —Peter Biskind, author of Easy Riders, Raging Bulls and editor of My Lunches with Orson

"The story of Network is the story of a prophetic screenwriter and his unrelenting determination to make the film that would not only change the way we looked at television, but free us to express our anger, individually and collectively. This is more than a book about a seminal movie. It's a book about a seminal moment in American history, told with grace, force, wit, and intelligence." —Jonathan Mahler, author of Ladies and Gentlemen, the Bronx Is Burning

"This thorough and rousing book reminds us that Paddy Chayefsky, aside from being one of the knockdown smartest individuals Hollywood has ever allowed, ranked with its most visionary. Mad As Hell makes painfully clear how our country's tabloid ethic has only worsened in the years since this Paul Revere of screenwriters saw it coming four decades ago. We should have listened." —Sam Wasson, author of Fifth Avenue, 5 A.M.: Audrey Hepburn, Breakfast at Tiffany's, and the Dawn of the Modern Woman

"Dave Itzkoff has blessed us with a vivid and richly entertaining account of what goes on inside the making of a hit movie--the mixture of intrigue, creativity, infighting, and astonishing behavior of the famous and the driven; all of which somehow came together to produce a superb motion picture. Not to be missed." —Dick Cavett