An Idea Whose Time Has Come: Two Presidents, Two Parties, and the Battle for the Civil Rights Act of 1964 (Paperback)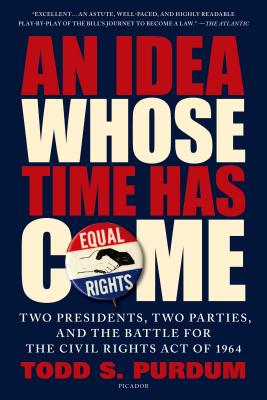 List Price: $26.00
Our Price: $22.10
(Save: $3.90 15%)
Warehouse, In Stock | Usually Ships in 1-5 Days | New
Description
---
A top Washington journalist recounts the dramatic political battle to pass the Civil Rights Act of 1964, the law that created modern America

It was a turbulent time in America—a time of sit-ins, freedom rides, a March on Washington and a governor standing in the schoolhouse door—when John F. Kennedy sent Congress a bill to bar racial discrimination in employment, education, and public accommodations. Countless civil rights measures had died on Capitol Hill in the past. But this one was different because, as one influential senator put it, it was "an idea whose time has come."

In a powerful narrative layered with revealing detail, Todd S. Purdum tells the story of the Civil Rights Act of 1964, recreating the legislative maneuvering and the larger-than-life characters who made its passage possible. From the Kennedy brothers to Lyndon Johnson, from Martin Luther King Jr. to Hubert Humphrey and Everett Dirksen, Purdum shows how these all-too-human figures managed, in just over a year, to create a bill that prompted the longest filibuster in the history of the U.S. Senate yet was ultimately adopted with overwhelming bipartisan support. He evokes the high purpose and low dealings that marked the creation of this monumental law, drawing on extensive archival research and dozens of new interviews that bring to life this signal achievement in American history.

Often hailed as the most important law of the past century, the Civil Rights Act stands as a lesson for our own troubled times about what is possible when patience, bipartisanship, and decency rule the day.
About the Author
---
Todd S. Purdum is the author of An Idea Whose Time Has Come and A Time of Our Choosing. He is a staff writer for The Atlantic, having previously worked for more than twenty years at The New York Times, where he covered beats from City Hall to the White House and served as Los Angeles bureau chief. He has also been a contributing editor at Vanity Fair and a senior writer at Politico. A native of Macomb, Illinois, and a graduate of Princeton University, he lives in Los Angeles with his wife, Dee Dee Myers, and their two children.
Praise For…
---
"Excellent . . . An astute, well-paced, and highly readable play-by-play of the bill's journey to become a law." —The Atlantic

"Worthy, timely, and intelligent." —The New Yorker

"Authoritative...A first-rate narrative." —The Wall Street Journal

"Compelling." —The New York Times

"Today's reader will be startled, if not astonished, by how the bill made its way through Congress." —The Washington Post

"An Idea Whose Time Has Come is brilliantly rendered and emotionally powerful – a riveting account of one of the most dramatic and significant moments in American history. The story Todd Purdum tells is absolutely mesmerizing." —Doris Kearns Goodwin

"Todd Purdum's fascinating behind-the-scenes account of the birth of the Civil Rights Act of 1964 is a timely and hopeful reminder that sometimes the good guys do win, even in Washington." —Jeffrey Toobin, author of The Oath and The Nine

"Todd Purdum's history of the 1964 Civil Rights Act is a masterful reconstruction of a seminal American event. He brilliantly captures the actors and drama that made this transformation in the country's social relations a reality. Everyone interested in contemporary America will want to read this book." —Robert Dallek, author of An Unfinished Life: John F. Kennedy, 1917-1963 and Camelot's Court: Inside the Kennedy White House

"Todd Purdum brings alive Congress's great historic achievement: the passage of the 1964 Civil Rights Act. The heroes are J.F.K. and L.B.J., but also those Midwest Republicans who stayed true to Lincoln. Those are the quietly eloquent stories here, the profiles in decency and guts, where members of Congress honored values greater than current popularity. An Idea Whose Time Has Come shows once again that the real action in American politics takes place in the back room – and in that quieter place: the beating hearts of the decent and courageous." —Chris Matthews

"In Todd Purdum's gripping account of the passage of the Civil Rights Act of 1964, we can see, from nearly every angle, how the federal government began making good on the 'promissory note' of equal rights that Dr. King had invoked at the March on Washington. Purdum provides both an invaluable education in the political process and a keen understanding of how personalities (the famous and the unsung) and the best of both parties overcame every roadblock to 'make real the promises of democracy,' as Dr. King had challenged." —Henry Louis Gates, Jr., Alphonse Fletcher University Professor, Harvard University

"The story behind the passage of the landmark Civil Rights Bill of 1964 is one that all Americans should know. An Idea Whose Time Has Come, Todd Purdum's insightful and elegantly written narrative, brings this history to life with deft portraits of the people who made the law and those who fought against it. It is a must read for all who are interested in the transformative power of the law and government to make positive changes in the lives of citizens." —Annette Gordon-Reed, Pulitzer Prize-winning author of The Hemingses of Monticello

"Todd Purdum's remarkable An Idea Whose Time Has Come brings back to life the historic fight waged on behalf of civil rights by JFK and LBJ. Purdum is a superb writer, never dull, and his grasp of the Sixties milieu is foolproof. This is a marvelous and much needed book of lasting importance." —Douglas Brinkley