Wolf in White Van: A Novel (Paperback)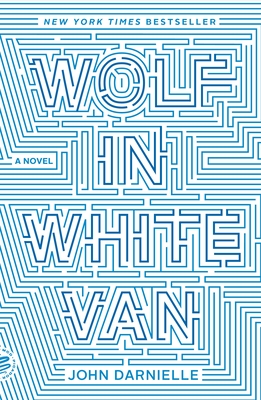 List Price: $17.00
Our Price: $14.45
(Save: $2.55 15%)
Warehouse, In Stock | Usually Ships in 1-5 Days | New
Description
---
A New York Times Bestseller. Nominated for the National Book Award, Finalist for the Los Angeles Times Book Prize for First Fiction, and Winner of the Alex Award, "One of the Most Compelling Books of the Year" (Blake Butler, Vice)

Beautifully written and unexpectedly moving, John Darnielle's Wolf in White Van is "an indelible novel, a hymn for those who inhabit lonely universes, and a harbor for anyone who has sought refuge in a reality other than their own" (Patrick deWitt).

Isolated by a disfiguring injury since the age of seventeen, Sean Phillips crafts imaginary worlds for strangers to explore. As the creator of "Trace Italian"-a text-based role-playing game that's played through the mail-Sean guides subscribers through his intricately imagined terrain, turn by turn, as they search out sanctuary in a ravaged, savage future America. But when Lance and Carrie, two teenaged seekers of the Trace, take their play outside the game, disaster strikes, and Sean is called on to account for it. In the process, he is pulled back through time, toward the beginning and the climax: the moment of his own self-inflicted departure from the world in which most people live.
About the Author
---
John Darnielle's first novel, Wolf in White Van, was a New York Times bestseller, National Book Award nominee, and a finalist for the Los Angeles Times Book Prize for first fiction, and widely hailed as one of the best novels of the year. He is the writer, composer, guitarist, and vocalist for the band the Mountain Goats. He lives in Durham, North Carolina, with his wife and sons.
Praise For…
---
"A stunning meditation on the power of escape, and on the cat-and-mouse contest the self plays to deflect its own guilt." —The New York Times Book Review (Editors' Choice)

"[Wolf in White Van] will back you onto your heels with its capacity for inventiveness in structure, story, and line-writing." —GQ

"The prose lives like Sean's imagination: a breathing, glowing thing. In Darnielle's novel, as in his songs, the monstrously true and unbelievably beautiful press up against one another. Together, they begin to dance." —NPR

"John Darnielle's novel moves through the mind like a dark-windowed car through a sleepy neighborhood: quiet, mysterious, menacing, taking you places you will never, never get out of your head." —Daniel Handler

"Wolf in White Van is utterly magnificent. I was surprised and moved and amazed page after page after page. I am talking about audible gasp type stuff, and also deeper, interior gasps of reflection and astonishment and gratitude. This story is a hard and beautiful human puzzle that will be a pleasure to solve and resolve over many readings. And you can quote me on that. Every day. That is all." —John Hodgman

"I can't remember the last time I so willingly followed a narrator into a frame of mind this splintered. (It helps that he's mostly wry about it.) As you read you waver between suspicions that the world itself is ill-made, and concern that the fundamental fault lies within our very brains. As for the writing, I'd go for anything else Darnielle writes like a shot." —Helen Oyeyemi, author of Boy, Snow, Bird

"Wolf in White Van is John Darnielle's savage genius gone free range. A meditation on monstrosity, isolation, escape, and transformation, this trance of a novel lures us deep into the labyrinth of one young man's imagination. What we find there is alluring and feral, raw, unflinching and exquisite. Absolutely fucking brilliant." —Claire Vaye Watkins, author of Battleborn

"I loved everything about this book. Blisteringly authentic--like a garage-made bomb on a slow-burning fuse, or like Darnielle set out to adapt an old Iron Maiden T-shirt as a literary novel and succeeded beyond anyone's wildest dreams." —Austin Grossman, author of Soon I Will Be Invincible and You

"Wolf in White Van is a testament to the ways in which all of us use imagination to survive, and the ways in which that same imagination can take over our lives until there's little else left. It brings us inside both the reality and the fantasy of day-to-day life in the way that only John Darnielle can. Read this book. You'll never hold another one like it." —Joseph Fink, creator of Welcome to Night Vale
Coverage from NPR