Devil's Breath: A Max Tudor Mystery (A Max Tudor Novel #6) (Hardcover)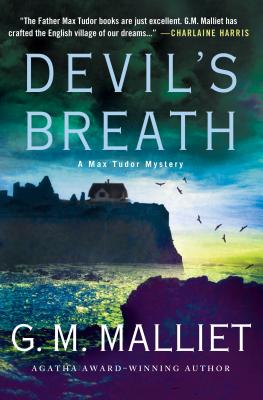 List Price: $25.99
Our Price: $22.09
(Save: $3.90 15%)
Other Books in Series
This is book number 6 in the A Max Tudor Novel series.
Description
---
Agatha Award-winning author G. M. Malliet returns with Devil's Breath, the sixth mystery in her wildly popular series featuring handsome spy-turned-cleric Father Max Tudor.

Having realized there is no escape from his past as an agent, Max has offered his services to MI5 on an as-needed basis. Now it's time for him to follow through. The body of glamorous film star Margot Browne has washed ashore from a luxury yacht and Max's former colleague wants his help to find the murderer.

It's a perfect "closed circle" murder since victim Margot must have been killed by one of the actors, stylists, screenwriters, or second-tier royalty aboard. The investigation into Margot's lurid past uncovers a host of motives—it seems she was not the only person on board with a secret they'd kill to keep.
About the Author
---
G. M. MALLIET's Death of a Cozy Writer received the Agatha Award for Best First Novel and was named one of the best books of 2008 by Kirkus Reviews. It went on to earn nominations for Anthony, Macavity, and Left Coast Crime awards. The first books in the Max Tudor series—Wicked Autumn, A Fatal Winter, Pagan Spring, and A Demon Summer—also were nominated for the Agatha Award. She and her husband live in Virginia and travel frequently to the UK, the setting for many of her stories.
Praise For…
---
Praise for the Max Tudor Series

"The Father Max Tudor books are just excellent. G.M. Malliet has crafted the English village of our dreams, with interesting small shops, a variety of inhabitants, and the local priest . . . who happens to be a former MI5 agent and also very handsome. Who wouldn't want to live in Nether Monkshood? Here's the fly in the ointment: people always die there, in the most unexpected and unpleasant ways. Though Max's personal life is a source of contention (Awena, his beloved, is a pagan), Max's ability to unravel a mystery is superb."—Charlaine Harris, #1 New York Times bestselling author

"It's great to see the return of Malliet's wit in a high-seas whodunit that deftly skewers the Hollywood high life."—Kirkus Reviews on Devil's Breath

"Charming... enjoyable... This is a cozy little addition to a cozy little series, a cozy little niche in the world of cozy corner mysteries." —Library Journal on Devil's Breath

"With a cast of showy characters aboard, the who and why possibilities are ripe for entertainment... Malliet knows how to set a scene, and here she has lots of fun with the movie-world cast." —Booklist on Devil's Breath

"Devil's Breath, like all of Malliet's novels, has clever plotting, entertaining characters, stylish settings, and a deliciously unorthodox view of the human condition. Plus its laced with wickedly wry humor. You won't want to miss this series." —Open Letters Monthly

"An excellent series... The book is titled 'The Haunted Season' for a reason..." —Mercury News

"A classic and ingenious whodunit laced with clues for the alert reader, A Fatal Winter out-Christies Christie. Pray you don't miss it." —Richmond Times-Dispatch

"Wittier than Louise Penny, lighter than Tana French, smarter than Deborah Crombie, G.M. Malliet has made a name for herself with her cozy-but-cutting English mysteries. A Demon Summer makes the case that she may be the best mystery author writing in English at the moment (along with French). She's certainly the most entertaining, with her delightful but surprisingly deep series about sleuthing vicar Max Tudor." —Cleveland Plain Dealer on A Demon Summer

"With clever plotting that draws on classic elements of the British village mystery, characters conceived with care, an evocative setting and frequent doses of humor to leaven the inevitable sadness, Malliet continues her elegant and entertaining series, one that discerning fans of the genre will find stimulating, rewarding — and a ton of fun." —Richmond Times-Dispatch on A Demon Summer

"I'm a fan of G.M. Malliet, and A Demon Summer is more of a return to the roots of the series. Father Max Tudor, former MI5 operative turned Anglican priest, must visit Monkbury Abbey at the order of his bishop. A peer has been poisoned, though not fatally, by a fruitcake prepared by the Handmaids of St. Lucy, a contemplative order. Just when Max is concluding the poisoning was accidental, one of the visitors to the Abbey is done to death. Once again, Max must find the killer . . . this time so he can home to his handfasting to the pregnant Awena." —Charlaine Harris on A Demon Summer

"Entertaining . . . the ending with a traditional gathering of the subjects will please Golden Age fans."—Publishers Weekly on Demon Summer

"The fourth fun entry in this charming English cozy series is delightful in tone. Think Agatha Christie meets Ian Fleming." —Library Journal on A Demon Summer

"Contemporary cozies don't get much better than Agatha-winner Malliet's third Max Tudor mystery."—Publishers Weekly (starred) on Pagan Spring

"Well crafted and entertaining, this is a superb winter read." —Crimespree on Fatal Winter

"A traditional English mystery involving a small village, a dysfunctional family and an attractive vicar can't help but appeal to mystery lovers everywhere." —Fresh Fiction on Fatal Winter

"Agatha Christie fans will relish Malliet's delicious second Max Tudor novel....Clever deduction and a logical fair-play solution are enhanced by the author's wry humor." —Publishers Weekly, starred review on Fatal Winter

"Malliet doesn't miss a step in her stellar second case for her handsome vicar....This series shines for its wit, well-drawn characters, pitch-perfect dialog, and intricately structured puzzle." —Library Journal, starred review on Fatal Winter

"[A] gift-wrapped package for cozy lovers and Agatha Christie devotees… thoroughly entertaining." —Booklist on Fatal Winter

"There are certain things you want in a village mystery: a pretty setting, a tasteful murder, an appealing sleuth… Malliet delivers all of that." —Marilyn Stasio on Wicked Autumn, New York Times

"G.M. Malliet's Sly humor rivals Jane Austen's." —The Boston Globe on Wicked Autumn

"A winning entry in the quiet English village mystery genre." —Mystery Scene on Wicked Autumn

"Takes the traditional English cozy mystery and plants it firmly into the twenty-first century." —New York Journal of Books on Wicked Autumn

"Provid[es] the sort of comfort a quintessential cozy can offer." —Kirkus on Wicked Autumn

"Malliet has mastered the delights of the cozy mystery so completely that she seems to be channeling Agatha Christie." —Booklist, starred review on Wicked Autumn

"A superb new series... a true homage to Agatha Christie...Malliet, like Louise Penny, brings a contemporary freshness to the traditional mystery." —Library Journal, starred review on Wicked Autumn

"This appealing first in a new cozy series from Agatha-winner Malliet introduces Max Tudor....Readers will look forward to seeing more of the Rev. Tudor." —Publishers Weekly on Wicked Autumn

"A superb novel! Filled with humor and insight, G. M. Malliet creates a fabulous setting in Nether Monkslip and a great series hero in Father Max Tudor. Rarely have I read descriptions that have left me gasping, in both their hilarity and their painful truth. A wonderful read." —Louise Penny on Wicked Autumn

"Intelligent, charming writing make this a standout and a return to the traditional English village mystery." —Charlaine Harris, author of the True Blood series, on Wicked Autumn

"Exquisitely well written, a tongue-in-cheek village mystery to be savored." —Julia Spencer-Fleming on Wicked Autumn

"G. M. Malliet has brought the village cozy into the 21st century." —Charles Todd on Wicked Autumn

"One of the most delightful English village mysteries I've read since Agatha Christie stopped writing about Saint Mary Mead. G.M. Malliet's sly allusions to both Miss Marple and Hercule Poirot will make Christie fans chuckle, but Nether Monkslip is no village that time forgot—not with its new age citizenry and a vicar who's a dishy ex-MI5. Highly recommended."—Margaret Maron, Edgar, Anthony, Agatha winner, and author of Christmas Mourning

"A contemporary and deliciously wicked homage to Agatha Christie's village mysteries, with an equally delicious hero who is infinitely sexier than Miss Marple. Once readers meet handsome, intelligent, witty MI5 spy-turned-Anglican priest Max Tudor, they'll be searching their maps for the village of Nether Monkslip!"—Deborah Crombie, New York Time sbestselling author of Necessary as Blood

"Hugely funny, exquisitely well written, Wicked Autumn is a tongue-in-cheek village mystery to be savored. G.M. Malliet's arch tone and wry humor make her a writer to be treasured."—Julia Spencer-Fleming, bestselling author of One Was a Soldier

"Miss Marple would approve."—Daily Mail (UK) on The Haunted Season