Outdoor School: Hiking and Camping: The Definitive Interactive Nature Guide (Paperback)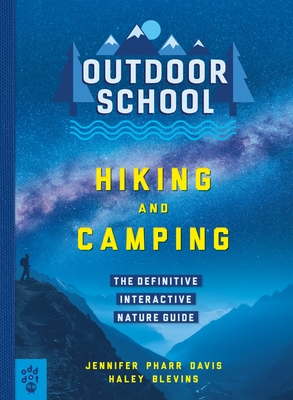 List Price: $19.99
Our Price: $16.99
(Save: $3.00 15%)
Description
---
Rewild your life! With metal corners and 448 full-color, highly illustrated pages, OUTDOOR SCHOOL: HIKING AND CAMPING is an indispensable tool for young explorers and nature lovers.

Make every day an adventure with the included:
- Immersive activities to get you exploring
- Write-in sections to journal about experiences
- Next-level adventures to challenge even seasoned nature lovers

No experience is required—only curiosity and courage. This interactive field guide to hiking and camping includes:
- Planning your next adventure
- Essential outdoor gear
- First aid & survival
- Navigation
- How to handle extreme weather
- Crossing dangerous terrain
- Setting up camp
- Building a fire in rain or shine
- Games for the trail
- Finding and filtering water
- Animal tracks, calls, and sounds
- Bird watching
- Plant spotting
- Rock hunting
- What to do if you're lost
And so much more!
About the Author
---
Jennifer Pharr Davis is a hiker, author, speaker, and National Geographic Adventurer of the Year who has covered over 14,000 miles of long distance trails on six different continents. In 2011, Jennifer covered the 2,185-mile Appalachian Trail in forty-six days, eleven hours, and twenty minutes, maintaining a remarkable average of forty-seven miles per day. By doing this, she claimed the overall (male or female) fastest known time on the "A.T." and became the first woman to set the mark. Jennifer has also backpacked over 700 miles in her 2nd and 3rd Trimesters of Pregnancy, walked across the state of North Carolina while nursing her son, and set foot on a trail in all 50 states with her daughter.
Jennifer has authored books and written articles for the New York Times, Outside magazine, Backpacker, and Trail Runner. She is also a professional speaker and the founder and owner of Blue Ridge Hiking Company, a guiding service that strives "to make the wilderness accessible and enjoyable" for hikers of all ages, genders, and ability levels. She is also a former board member for the Appalachian Trail Conservancy and an ambassador for the American Hiking Society. Jennifer lives in Asheville, North Carolina, with her husband Brew and their daughter Charley and son Gus.
Haley Blevins
has spent her life swimming the waters of Florida, hiking the mountains of western North Carolina, teaching elementary school children, playing and coaching soccer, and backpacking trails all over the US. After 14 years in the classroom, she took on a new challenge--tackling America's longest distance hiking trails: the Appalachian Trail, Continental Divide Trail, Pacific Crest Trail, and Colorado Trail. She has walked over 10,000 miles of trail, and her mission is to share her love for the outdoors. She leads hikers of all abilities and backgrounds with the Blue Ridge Hiking Company in Asheville, NC.
Aliki Karkoulia
is an illustrator and artist from Greece. Her work explores themes of childhood, nature and imaginary worlds. She is inspired by the world around her and has a deep passion to understand and highlight its most wonderful parts.