The Cactus League: A Novel (Paperback)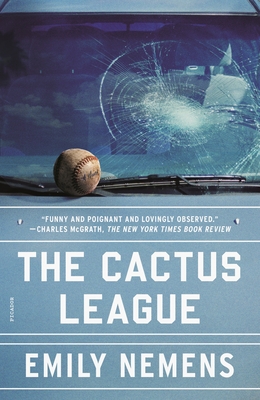 List Price: $17.00
Our Price: $14.45
(Save: $2.55 15%)
Warehouse, In Stock | Usually Ships in 1-5 Days | New
Description
---
Named a Best Book of 2020 by NPR and Lit Hub. A Los Angeles Times Bestseller. A New York Times Book Review Editors' Choice

"In The Cactus League [Emily Nemens] provides her readers with what amounts to a miniature, self-enclosed world that is funny and poignant and lovingly observed." --Charles McGrath, The New York Times Book Review

An explosive, character-driven odyssey through the world of baseball

Jason Goodyear is the star outfielder for the Los Angeles Lions, stationed with the rest of his team in the punishingly hot Arizona desert for their annual spring training. Handsome, famous, and talented, Goodyear is nonetheless coming apart at the seams. And the coaches, writers, wives, girlfriends, petty criminals, and diehard fans following his every move are eager to find out why—as they hide secrets of their own.

Humming with the energy of a ballpark before the first pitch, Emily Nemens's The Cactus League unravels the tightly connected web of people behind a seemingly linear game. Narrated by a sportscaster, Goodyear's story is interspersed with tales of Michael Taylor, a batting coach trying to stay relevant; Tamara Rowland, a resourceful spring-training paramour, looking for one last catch; Herb Allison, a legendary sports agent grappling with his decline; and a plethora of other richly drawn characters, all striving to be seen as the season approaches. It's a journey that, like the Arizona desert, brims with both possibility and destruction.

Anchored by an expert knowledge of baseball's inner workings, Emily Nemens's The Cactus League is a propulsive and deeply human debut that captures a strange desert world that is both exciting and unforgiving, where the most crucial games are the ones played off the field.
About the Author
---
Emily Nemens is the author of the novel The Cactus League, which was a Los Angeles Times bestseller, a New York Times Book Review Editors' Choice, and was named a Best Book of 2020 by NPR. She was previously the editor of The Paris Review and the co-editor of The Southern Review. Her work has been published in Esquire, n+1, The Gettysburg Review, Hobart and elsewhere.
Praise For…
---
"There are probably more good novels about baseball than any other sport. More bad ones, too. Emily Nemens's The Cactus League definitely belongs in that first lineup." --Charles McGrath, The New York Times Book Review

"[Nemens] demonstrates deep knowledge not only of baseball but also of American desperation . . . Nemens makes us care about even the worst of [her characters], a neat trick of unsentimental empathy and a testament to the power of careful, almost loving, observation . . . With her sharp eye for the details of unremarkable lives, Nemens at times reminds one of Joan Didion, and her Southwestern dreamers." --Kate Tuttle, Los Angeles Times

"A panoramic portrait . . . Nemens's adoration of the game is infectious, and her novel is packed with winning details." --Karen Heller, The Washington Post

[The Cactus League] tempers the grandiosity inherent in baseball and implies that games have always been an important part of being human . . . Its many pleasures come from spending time with Goodyear and the others whose lives connect to the game, and from pondering how the dramas of everyday life and the imperatives of professional sports influence each other." --Josh Ostergaard, San Francisco Chronicle

"As Nemens portrays the life of the team—a pitcher is in thrall to pain pills; players' wives hold a lingerie party—it starts to seem almost an organism, each constituent part brushing against others in a larger story of competition, survival, and obsession." --The New Yorker (Briefly Noted)

"[A] wise debut . . . [The Cactus League speaks] strongly to baseball's enduring vitality. The home runs and strikeouts may be background noise, but they're ubiquitous all the same. They've defined this community -- its heartbreaks, its victories, its changes. They've created a world." --David Canfield, Entertainment Weekly

"[Nemens] works within the quirky register of the heart, writing about one of her great passions: baseball. She crafts a humorous and emotional novel about a star outfielder, and the coaches, fans and criminals who inhabit the same off-kilter world." --Cody Delistraty, The Wall Street Journal

"Emily Nemens's debut novel about spring baseball, The Cactus League, has all of [Walt] Whitman's so described snap, go, and fling to it, but it carries with it the elusive spirit of the game, too . . . As a baseball novel, The Cactus League treads deftly between the conventions, clichés, kitsch, legends, and nostalgia inherent in a sport that is over half the age of the United States itself." --Mike Broida, Los Angeles Review of Books

"Baseball is said to be the most literary of sports, inspiring fiction that aims to capture its artistry and symmetry, so a book like The Cactus League that succeeds as a robust social novel hits the elusive sweet spot . . . Nemens creates an alternative world with nuance beyond the score sheet, rife with ambition and jealousy, disappointment and victory." --National Book Review

"In The Cactus League, baseball remains a sturdy vehicle to contemplate contemporary American culture, in addition to the whole dense spectrum of human relationships . . .captivating." --Brady Brickner-Wood, Harvard Review

"You don't have to enjoy baseball (sport, game, or what have you) to find this semi novel-in-stories a richly layered, often tender and generous, exposé of the life of players, fans, and everyone in between . . . There is more to this book than the best sports reporting: peeling back the curtain, examining the people behind the statistics, and understanding that sometimes the most crucial plays are the ones happening off the field." --Sara Cutaia, Chicago Review of Books

"Nemens delivers an engaging, eccentric cast of players, coaches, families, and others who inhabit the world of baseball . . . From start to finish, Nemens captures the spirit of the game." --The Millions

"[A] quirky first novel . . . [The Cactus League] showcases a fascinating gallimaufry of characters who swirl around the edges of the springtime ritual . . . Nemens finds a kind of attenuated hope along with melancholy in these sharply etched character studies that "end not with 'out three' but 'out maybe.''" --Booklist (starred review)

"[An] insightful debut . . . each character is brought to life in convincing detail . . . this debut entertainingly illuminates people and problems usually overlooked in the sports pages." --Publishers Weekly

" A novel about baseball and how it shapes the lives of athletes as much as the town that supports it—and a beautiful one at that . . . Like the best sportswriting, this bighearted, finely observed novel is about far more than the game." --Kirkus

"Emily Nemens's magnificent debut is a masterwork of great empathy and detail, uncovering the realms of incredible pain and beauty enmeshed within every level of America's pastime. If you love baseball, you won't put it down, and if you don't love baseball, you might by the end." —J. Ryan Stradal, author of The Lager Queen of Minnesota and Kitchens of the Great Midwest

"A debut? You've got to be kidding.The Cactus League reads like the work of a seasoned novelist. The way the story's tension ramps, the richly drawn characters, the indelible imagery—you'll never see a ball park the same—not to mention Emily Nemens's knowledge of America's pastime is downright encyclopedic. And while all those things are true, absolutely true, the heart of this amazing novel is Emily's understanding of the crucibles faced by those both in the limelight and out of it. Goodyear and the rest of the gang are a cast for the ages. Hip hip hooray for this achievement." —Mitchell S. Jackson, author of Survival Math: Notes on an All-American Family

"The Cactus League is not just another baseball novel. I can't think of another book that so carefully examines the complex ecosystem of professional sport. With both compassion and objectivity, Emily Nemens deftly depicts the rich lives and stories that swirl beneath the 'meaningless' innings of spring training." —Chris Bachelder, author of The Throwback Special

"Emily Nemens gets beneath the image—the macho chewing, spitting, ball fondling, the studied nonchalant distraction—to the real people on the field and off. She's a true fan, and one hell of a writer. The Cactus League is crisp, clean, funny, and just plain good. If you love baseball, and fiction, you'll love this book." —Brad Watson, author of Miss Jane