Kissing Under the Mistletoe (Mass Market)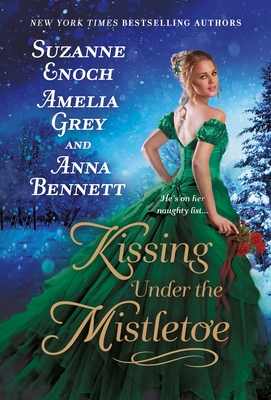 List Price: $8.99
Our Price: $7.64
(Save: $1.35 15%)
Description
---
From the Scottish highlands, to the bustle and tussle of London, to a hotel on the outskirts of town, three unforgettable authors bring the joy of Christmas romance in Kissing Under the Mistletoe.

Great Scot! by Suzanne Enoch
Miss Jane Bansil knows she will never have a fairy-tale moment. Well past the marriageable age, she's taken a position as a companion and is now stuck in Scotland for Christmas, alone even in the middle of the boisterous MacTaggert family. But when Brennan Andrews, an architect and cousin to the MacTaggerts, arrives to draw up plans for a new family home, Jane must decide if she will take a chance at a happily-ever-after, or settle into her small, safe life for good.

Christmas at Dewberry Hollow by Amelia Grey
Miss Isabelle Reed has no plans to ever fall in love. She has a perfectly acceptable life with her mother at the Dewberry Hollow Inn, thank you very much. But when Gate, the Duke of Notsgrave's grandson, appears at Dewberry Hollow searching for a carving on a tree, Isabelle cannot help but get involved. But Gate's charm and their instant attraction makes Isabelle question if she's willing to take her chance at love once again.

My Mistletoe Beau by Anna Bennett
Miss Eva Tiding is determined to cheer her widowed father with the perfect Christmas gift. Even if it means breaking into the home of the rakish Earl of Frostbough who swindled Papa out of his pocket watch. But when the earl, Jack Hardwick, catches her in the act, they strike a deal: she'll pose as his fiancée in exchange for the watch. Falling in love is not part of the plan—but with a little Christmas magic, anything is possible…
About the Author
---
Suzanne Enoch grew up in Southern California, where she still balances her love for the Regency romances of Georgette Heyer and classic romantic comedies with her obsession for anything Star Wars. Given her love of food and comfy chairs, she may in fact be a Hobbit. She has written more than 35 romance novels, including traditional Regencies, Historical Romance, and contemporary Romantic Suspense. When she isn't working on her next book she is trying to learn to cook, and wishes she had an English accent. She is the bestselling author of The Scandalous Brides series, The Scandalous Highlanders series, and One Hot Scot.

New York Times and USA Today bestselling author Amelia Grey read her first romance book when she was thirteen and she's been a devoted reader of love stories ever since. Her awards include the Booksellers Best, Aspen Gold, and the Golden Quill. Writing as Gloria Dale Skinner, she won the coveted Romantic Times Award for Love and Laughter, and the prestigious Maggie Award. Her books have sold to many countries in Europe, Indonesia, Turkey, Russia, and Japan. Several of her books have also been featured in Doubleday and Rhapsody Book Clubs. Amelia is the author of more than twenty-five books, including the Heirs' Club trilogy and the Rakes of St. James series. She's been happily married to her high school sweetheart for over thirty-five years and she lives on the beautiful gulf coast of Northwest Florida.

Anna Bennett is the award-winning author of the Debutante Diaries and Wayward Wallflowers series. Her dream of writing romance began during a semester in London, where she fell in love with the city, its history, and its pubs. Now Anna's living happily-ever-after in Maryland with her family, who try valiantly not to roll their eyes whenever she quotes Jane Austen.
Praise For…
---
"These enjoyable love stories successfully stave off the winter chill." - Publishers Weekly