Spear (Hardcover)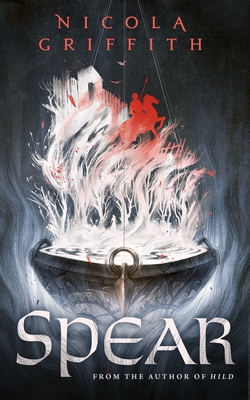 List Price: $19.99
Our Price: $16.99
(Save: $3.00 15%)
Warehouse, In Stock | Usually Ships in 1-5 Days | New
May 2022 Indie Next List
---
"Griffith does it again! I could read 200 more pages of this gorgeous, moody reimagining of one of the many tales surrounding King Arthur. It reminded me of Alex Myers' The Story of Silence in its exploration of the gender (non)binary."
— Elayna Trucker, Napa Bookmine, Napa, CA
Description
---
Winner of the ADCI Literary Prize
Winner of the L.A. Times Ray Bradbury Prize

Finalist for the Ursula K. Le Guin Prize for Fiction
Finalist for the Nebula Award for Best Novel
Finalist for the World Fantasy Award for Best Novel
Finalist for the HWA Gold Crown Award for Historical Fiction

"[A] queer Arthurian masterpiece for the modern era."—Los Angeles Times

"A pleasure to follow [and] a lovely flexing of Griffith's strengths in short form." —The New York Times Book Review

"Spectacular—I've been waiting years for this book to exist." —Maria Dahvana Headley, author of Beowulf: A New Translation

"If Le Guin wrote a Camelot story, I imagine it would feel like Spear: humane, intelligent, and deeply beautiful. It's a new story with very old bones, a strange place that feels like home." —Alix E. Harrow, author of A Spindle Splintered

A Shelf Awareness Best of the Year pick
A Vulture Best Fantasy of the Year pick

She left all she knew to find who she could be . . .

She grows up in the wild wood, in a cave with her mother, but visions of a faraway lake drift to her on the spring breeze, scented with promise. And when she hears a traveler speak of Artos, king of Caer Leon, she decides her future lies at his court. So, brimming with magic and eager to test her strength, she breaks her covenant with her mother and sets out on her bony gelding for Caer Leon.

With her stolen hunting spear and mended armour, she is an unlikely hero, not a chosen one, but one who forges her own bright path. Aflame with determination, she begins a journey of magic and mystery, love, lust and fights to death. On her adventures, she will steal the hearts of beautiful women, fight warriors and sorcerers, and make a place to call home.

The legendary author of Hild returns with an unforgettable hero and a queer Arthurian masterpiece for the modern era. Nicola Griffith's Spear is a spellbinding vision of the Camelot we've longed for, a Camelot that belongs to us all.
About the Author
---
Nicola Griffith (she/her) is a dual UK/US citizen living in Seattle. She is the author of award-winning novels including Hild and Ammonite, and her shorter work has appeared in Nature, New Scientist, New York Times, etc. She is the founder and co-host of #CripLit, holds a PhD from Anglia Ruskin University, and enjoys a ferocious bout of wheelchair boxing. She is married to novelist and screenwriter Kelley Eskridge.
Praise For…
---
"[A] queer Arthurian masterpiece for the modern era."
—Los Angeles Times

"A pleasure to follow [and] a lovely flexing of Griffith's strengths in short form."
—The New York Times

"Spear is a fantastic excuse to dig into Arthurian legend, and it stands on its own as an enthralling read—an instant classic, born of classics."
—Chicago Review of Books

"Griffith delivers on an impossible challenge: taking the all to familiar Arthurian saga and makes it fresh again, with a captivating hero and expert myth-making. Beautifully written and constructed."
—Historical Writers' Association

"[A] beautiful, atmospheric novella, a queer retelling of an age-old myth that is a wonder to behold."
—Kerry McHugh, Shelf Awareness (starred review)

"Readers will appreciate this sparkling interpretation of Arthurian legend, which combines interesting historical detail with appealing, inclusive characters in a genuinely delightful way."
—Anna Mickelsen, Booklist

"Written in a lovely lyrical style . . . Spear is a wonderful story to behold."
—Manhattan Book Review

"Spear proves clever, surprising, and even strikingly original, a descriptor I wouldn't use lightly of Arthurian literature."
—T.S. Miller, Strange Horizons

"Mesmerizing . . . A lyrical bildungsroman drenched in the natural world [turns into] a fast-moving, violent suspense tale with stakes that are at once epic and personal . . . A marvelously concise epic that is entirely Griffith's own."
—Gary Wolfe, Locus

"Spear is more than adventure and romance; it's also a rumination on what it means to 'belong' to someone else. How much of who we are is where (and whom) we came from? And how much is who we're desperate to become? What if our destiny calls us away from a person who feels like we're their destiny? What do we owe to those who love us? And what do we owe to ourselves? Griffith examines these — very queer — questions with both deftness and gravitas."
—Heather Hogan, Autostraddle

"There is magic in Nicola Griffith's words. Prepare to be enchanted."
—John Scalzi, author of The Kaiju Preservation Society

"If Le Guin wrote a Camelot story, I imagine it would feel like Spear: humane, intelligent, and deeply beautiful. It's a new story with very old bones, a strange place that feels like home. It's exactly what I needed."
—Alix E. Harrow, author of A Spindle Splintered

"Nicola Griffith braids the Percival tales to her own ferocious imagination, and the results are spellbinding. Her novel is a reclamation of the touchstones of Arthurian myth—skewering received notions with the sharp point of her pen. If that sounds too theoretical, let me also say that it's a screamingly hot canon-queering epic filled with bloody battles, and world-shaking magic. Spear is an unprecedented and spectacular investigation of the Matter of Britain. I've been waiting years for this book about the once and future everyone else to exist."
—Maria Dahvana Headley, author of The Mere Wife and Beowulf: A New Translation

"This fresh, emotionally immediate queer spin on the medieval tale of Percival and the Holy Grail reaffirms Griffith as a consummate storyteller . . . Steeped in period texture that brings remote history fully into the present, and lushly illustrated by Rovina Cai (The Seventh Raven), this tale of destiny, belonging, and home is a genuine pleasure."
—Publishers Weekly

"Breathtaking. Nicola Griffith knows what she's doing."
—Jo Walton, author of Or What You Will

"Gorgeous . . . This slim volume manages to capture its reader and tell a complete story in just under two hundred pages, something which many longer books don't achieve . . . I spent most of 2020 reading every Arthurian retelling I could get my hands on, and believe me when I say that Spear is truly one of the best."
—Fabienne Schwizer, Grimdark Magazine

"Set against the backdrop of King Arthur's court, Nicola Griffith's Spear is at once intoxicating, brutal, and entirely compelling. Readers will want to race through the novella to uncover the main character's destiny as she fights to understand her place in the world, but they will linger over every word of Griffith's lush prose. Fans of Camelot won't want to miss this gorgeous take on the Percival legend."
—Swapna Krishna, co-editor of Sword Stone Table

"Just dazzling!"
—Bruce Holsinger, author of The Gifted School

"A mesmerizing tale that manages to be both epic and immersive in a short, intimate span, Spear gives us a vivid hero, a daring quest, and a clear-eyed reimaging of Arthurian legend."
—Malka Older, author of State Tectonics