The Dead and the Dark (Paperback)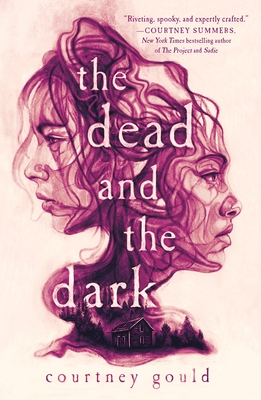 List Price: $12.99
Our Price: $11.04
(Save: $1.95 15%)
Warehouse, In Stock | Usually Ships in 1-5 Days | New
Description
---
"Imagine Riverdale crossing streams with Stephen King's The Outsider and you'll get a sense of this gripping supernatural mystery...Gould's debut begins as a snappy paranormal yarn and unspools into a profound story about the complex interplay between grief, guilt, and identity." - Oprah Daily

Courtney Gould's thrilling YA debut The Dead and the Dark is about the things that lurk in dark corners, the parts of you that can't remain hidden, and about finding home in places—and people—you didn't expect.

The Dark has been waiting—and it won't stay hidden any longer.

Something is wrong in Snakebite, Oregon. Teenagers are disappearing, some turning up dead, the weather isn't normal, and all fingers point to TV's most popular ghost hunters who have just come to town.

Logan Ortiz-Woodley, daughter of TV's ParaSpectors, has never been to Snakebite before. But the moment she and her dads arrive, she starts to get the feeling that there's more than ghosts plaguing this small town. Ashley Barton's boyfriend was the first teen to go missing, and she's felt his ghost following her ever since. Although everyone shuns the Ortiz-Woodleys, the mysterious Logan may be the only person who can help Ashley get some answers.

When Ashley and Logan team up to figure out who—or what—is haunting Snakebite, their investigation reveals truths about the town, their families, and themselves that neither of them are ready for. As the danger intensifies, they realize that their growing feelings for each other could be a light in the darkness.
About the Author
---
Courtney Gould writes books about queer girls, ghosts, and things that go bump in the night. She graduated from Pacific Lutheran University in 2016 with a Bachelor's degree in Creative Writing and Publishing. She was born and raised in Salem, OR, where she continues to write love letters to the haunted girls and rural, empty spaces. The Dead and the Dark is her debut novel.
Praise For…
---
Winner of the Oregon Book Award's Leslie Bradshaw Award for Young Literature, 2022

BOOK RIOT, "Most Anticipated Books of 2021"

BOSTON MAGAZINE, "42 Books to Help You Get Through the Rest of Quarantine"

BUZZFEED, "The Best YA Books of 2021"

CULTURESS, "21 exciting new YA book releases arriving in the summer of 2021"

FROLIC, "Dark YA to watch for in 2021"

DEN OF GEEK, "Top New YA Books in August 2021"

GEEK GIRL AUTHORITY, "21 Queer Books To Look Out for This Summer and Fall"

GIZMODO, "49 New Sci-Fi and Fantasy Books to Keep You turning Pages in August"

LAMBDA LITERARY, "August's Most Anticipated LGBTQ Literature"

MEDIUM, "New Book Releases: August 3, 2021"

OPRAH DAILY, "45 Best LGBTQ Books That Will Heat Up the Literary Landscape This Fall"

POPSUGAR, "Best New YA Books Releasing in August 2021"

PRIDE.com, "25 New LGBTQ+ YA Books to Add to Your 2021 Reading List"

SHEREADS, "Best LGBTQA+ Books of 2021"

THE NERD DAILY, "Get Your Hands On These Anticipated July To December 2021 Book Releases"

UNITED BY POP, "20+ Exciting New YA Releases For August 2021"

"Gould's debut is haunting... Characters are the focal strength of this book, which is a slow-burn story with an immersive setting that feels like a character in and of itself. The darkness spreading over Snakebite exposes the truth about small-town ideology and oppression, loneliness, secrecy, and what makes a family or a home." - Booklist

"A complex and sophisticated thriller with haunting real-world connections." - Kirkus (Starred Review)

"Gould's supernaturally spooky debut is filled with all manner of creepy inventiveness...an intriguing read." - Publishers Weekly

"Spooky atmosphere seeps out of every pore of this slow burn ghost story." - Buzzfeed

"A thoroughly creepy ride from start to finish...Gould has a gift for supernatural storytelling. The story is fast-paced and quick-moving – it's easy to find yourself lost in its pages and finish the book in just a day or so." - Culturess

"Courtney Gould's setting descriptions create a blistering, tense atmosphere in an isolated and spooky town." - Geek Girl Authority

"It's perfectly written to give us a slow burn while simultaneously teasing a new aspect of the mystery in every single chapter...But this book was so much more than the mystery—it's also about that feeling of darkness and depression that lives in all of us; it's about standing up to hate and realizing we're not as different from each other as we might think; and it's about queerness, love, acceptance and, most importantly, hope for the future." - Hypable

"Imagine Riverdale crossing streams with Stephen King's The Outsider and you'll get a sense of this gripping supernatural mystery...Gould's debut begins as a snappy paranormal yarn and unspools into a profound story about the complex interplay between grief, guilt, and identity." - Oprah Daily

"Gould's atmospheric writing mesmerized me while reading... In the veins of V.E. Schwab and Courtney Summers, Gould delivers a spine-chilling and eerie debut with The Dead and the Dark that will leave readers hooked from the first page." - The Nerd Daily

"For fans of books like authors like Courtney Summers and Lisa Jewell, Courtney Gould's debut novel The Dead and the Dark packs a chilling story of a murder conspiracy, family bonds, and the darkness that exists within the seams of society and even inside the most purest of people." - The Young Folks

"Gould's debut is an utterly dreamy romance in the midst of a living nightmare, and a true testament to the power of love in a world of hate. It's exactly the book we need right now." - Dahlia Adler, author of Cool for the Summer and editor of His Hideous Heart

"An absorbing mystery and wholly original ghost story. Gould's writing is mesmerizing, drawing you into Snakebite until it slips under your skin and lingers like the Dark itself. A haunting story I won't shake off anytime soon." - Emma Berquist, author of Devils Unto Dust and Missing, Presumed Dead

"The Dead and the Dark has something for everyone: thrills, chills, a mystery that'll keep readers guessing and a romance they'll absolutely love rooting for. Snakebite is a setting as unforgettably alive as the characters who inhabit it and once it gets hold of you, it won't let go. A riveting, spooky and expertly-crafted debut from a talented new voice in YA fiction." - Courtney Summers, New York Times bestselling author of Sadie

"Gould's debut has everything you need in a book: an engrossing mystery, a compelling love story, and a setting so utterly alive you won't believe it isn't on a map. The Dead and the Dark will keep you in its grasp until the last perfect page." – Erica Waters, author of Ghost Wood Song

"The Dead and the Dark gave me everything I want from a great supernatural murder mystery: a haunting small town, a fresh new romance, and the very best kind of monster—the kind we make ourselves." - Francesca Zappia, author of Now Entering Addamsville and Eliza and Her Monsters