The Problem of Alzheimer's: How Science, Culture, and Politics Turned a Rare Disease into a Crisis and What We Can Do About It (Paperback)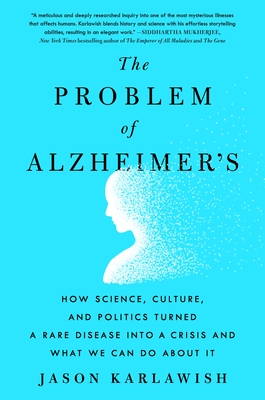 List Price: $18.99
Our Price: $16.14
(Save: $2.85 15%)
Warehouse, In Stock | Usually Ships in 1-5 Days | New
Description
---
A definitive and compelling book on one of today's most prevalent illnesses.

In 2020, an estimated 5.8 million Americans had Alzheimer's, and more than half a million died because of the disease and its devastating complications. 16 million caregivers are responsible for paying as much as half of the $226 billion annual costs of their care. As more people live beyond their seventies and eighties, the number of patients will rise to an estimated 13.8 million by 2050.

Part case studies, part meditation on the past, present and future of the disease, The Problem of Alzheimer's traces Alzheimer's from its beginnings to its recognition as a crisis. While it is an unambiguous account of decades of missed opportunities and our health care systems' failures to take action, it tells the story of the biomedical breakthroughs that may allow Alzheimer's to finally be prevented and treated by medicine and also presents an argument for how we can live with dementia: the ways patients can reclaim their autonomy and redefine their sense of self, how families can support their loved ones, and the innovative reforms we can make as a society that would give caregivers and patients better quality of life.

Rich in science, history, and characters, The Problem of Alzheimer's takes us inside laboratories, patients' homes, caregivers' support groups, progressive care communities, and Jason Karlawish's own practice at the Penn Memory Center. It also includes a new epilogue recounting the FDA's surprising 2021 approval of the controversial Alzheimer's drug Aduhelm, the astonishing aftermath, and how these unique events explain the enduring problem of Alzheimer's.
About the Author
---
JASON KARLAWISH is a physician and writer, and a professor of medicine, medical ethics and health policy, and neurology at the University of Pennsylvania and co-director of the Penn Memory Center. He lives in Philadelphia, Pennsylvania.
Praise For…
---
"A meticulous and deeply researched inquiry into one of the most mysterious illnesses that affects humans. Karlawish blends history and science with his effortless storytelling abilities, resulting in an elegant work."--Siddhartha Mukherjee, New York Times bestselling author of The Emperor of All Maladies and The Gene

"How does a disease go from being a rare curiosity to become one of the most feared illnesses and major public health challenges of the 21st century? The Problem of Alzheimer's tells the story of how Alzheimer's disease made this transition. Pulling together descriptions of substantial progress in understanding the disease's biology, a sociological tale of disease advocacy, human egos, and adverse impacts wrought by the disease, and a recognition of the disease's economic and public health impacts, Jason Karlawish, a distinguished Alzheimer's disease researcher and clinician, weaves together personal stories with a compelling narrative to tell a fascinating story of the medical-industrial complex, human suffering, and research progress."--Peter Rabins, co-author of The 36-Hour Day and author of Is It Alzheimer's?

"This scoping review is an engrossing and fascinating account of the tragedy of a single ubiquitous disease. A cautionary and deeply relevant tale of what is risked when science collides with politics. A cogent historical and moral account of the human condition, viewed at both a national scale and under the lens of a microscope. You will come away with a different appreciation for science, self-determination and the endless mystery of your own mind."--Rana Awdish, bestselling author of In Shock

"In this careful and caring new look at the issue, physician Karlawish explores the history of the disease and its treatments; contemporary efforts to determine its multitudinous causes and manifestations and how to treat them, either pharmaceutically or therapeutically; and how governmental and other health programs can better respond. A must-read on an important subject." —Library Journal (starred review)

"Karlawish presents tough information and hard questions with emotional tact. This is a real eye-opener."--Publishers Weekly

"There's no cure for Alzheimer's, but Karlawish reassures readers that it's possible to help patients preserve their comfort and dignity." — Booklist

"As significant for Alzheimer's disease as Siddhartha Mukherjee's The Emperor of All Maladies was for cancer. [Karlawish is] a highly skilled and sympathetic writer."--St. Louis Post Dispatch

"Karlawish has spent the majority of his career treating and studying Alzheimer's patients, and guiding their families. Their shared experiences are at the heart of this book. He does not shy away from exploring some of the challenging realities they have faced together, but he also incorporates his considerable clinical experience and scientific wisdom that give both practical direction and hope to this struggle. If you wonder about what is possible in terms of making a difference in treating people with Alzheimer's Disease and their families both now and within the foreseeable future, then I encourage you to read this book."--Timothy Quill, MD, Distinguished Professor of Palliative Care, University of Rochester School of Medicine

"A lucid, opinionated history of the science, politics, and care involved in the fight against this century's most problematic disease. An outstanding primer that readers should put into the hands of their doctors."--Kirkus Reviews (starred review)

"Alzheimer's Disease is one of the greatest disasters of our time. In this lucid and important book, Jason Karlawish gives us a handle on this slippery disease, mapping out what's possible to know about it, and what mysteries remain. Dr. Karlawish is a magnificent guide through the tangles of dementia, as well as the heartache and the hope of treatment. This book might be considered a companion to Siddhartha Mukherjee's The Emperor of All Maladies -- a doctor's meditation on his nemesis. In this page-turning account, Dr. Karlawish stokes our curiosity about one of humanity's greatest foes, asking us to put aside our fear in order to find out what this disease can tell us about ourselves. "--Pagan Kennedy, author of Inventology

"Jason Karlawish is a compassionate guide through this compelling and comprehensive tale of political intrigue and scientific discovery, of human suffering and medical conundrums. He deftly weaves stories of passionate scientists, political tacticians, determined families, and visionaries in care to guide us toward our communal dream – ending the pain of dementia and Alzheimer's."--Anne Basting, PhD, author of Creative Care

"Alzheimer's is as much a problem for scientists, policy experts, doctors and nursing assistants as it is for patients and families. Jason Karlawish's new book makes its history clearer, its status in medicine more understandable and its humanistic and caregiving sides better appreciated. It should be read by families and practitioners who want to understand where the subject has come from and where it is headed. An important contribution!"--Arthur Kleinman author of The Soul of Care

"Jason Karlawish has written a remarkable book that weaves together insightful reflections on his decades of experience as a clinician and ethicist specializing in dementia care with a broad reading of history, politics, and culture. It provides a compelling explanation of the kind of problem we face in Alzheimer's, a cogent critique of the ways in which the health care system fails people with dementia and their families, and a vision for how we can do better. Essential reading for anyone concerned with Alzheimer's disease."--Jesse F. Ballenger, author of Self, Senility, and Alzheimer's Disease in Modern America.

"Quite simply, this is the best book about Alzheimer's disease I have read, and I have read most of them. I am a retired neurologist with early-stage Alzheimer's disease, so I have experience with the disease from two points of view: a neurologist who cared for many patients with Alzheimer's during my career and now a person living with early Alzheimer's...[Dr. Karlawish's] book is comprehensive yet accessible, covering the history, politics, and controversies surrounding the disease. It is thorough and it is compassionate. I recommend it to anyone who wants to understand this disease." -- Daniel Gibbs, author of A Tattoo on My Brain: A Neurologist's Personal Battle Against Alzheimer's Disease

"Karlawish is well situated for gaining insights on many aspects of Alzheimer's disease from many directions." --LitMed