The Last Negroes At Harvard: The Class of 1963 and the 18 Young Men Who Changed Harvard Forever (Hardcover)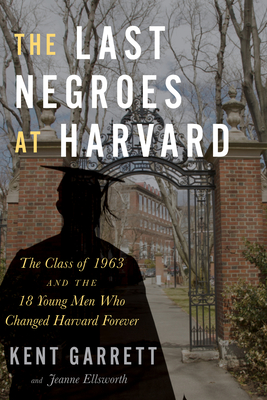 List Price: $27.00
Our Price: $22.95
(Save: $4.05 15%)
Warehouse, In Stock | Usually Ships in 1-5 Days | New
Description
---
The untold story of the Harvard class of '63, whose Black students fought to create their own identities on the cusp between integration and affirmative action.
In the fall of 1959, Harvard recruited an unprecedented eighteen "Negro" boys as an early form of affirmative action. Four years later they would graduate as African Americans. Some fifty years later, one of these trailblazing Harvard grads, Kent Garrett, would begin to reconnect with his classmates and explore their vastly different backgrounds, lives, and what their time at Harvard meant.

Garrett and his partner Jeanne Ellsworth recount how these eighteen youths broke new ground, with ramifications that extended far past the iconic Yard. By the time they were seniors, they would have demonstrated against national injustice and grappled with the racism of academia, had dinner with Malcolm X and fought alongside their African national classmates for the right to form a Black students' organization.

Part memoir, part group portrait, and part narrative history of the intersection between the civil rights movement and higher education, this is the remarkable story of brilliant, singular boys whose identities were changed at and by Harvard, and who, in turn, changed Harvard.
 
About the Author
---
KENT GARRETT was born in the Fort Greene Projects in Brooklyn, New York. He excelled in the New York City Public Schools and went on to Harvard College in 1959. He was one of the producers of the ground-breaking public TV program
Black Journal
and went on to a long career with CBS and NBC News. In 1997, he left the rat race and became an organic dairy farmer in upstate New York.
JEANNE ELLSWORTH grew up in northwest New Jersey and taught elementary school there for ten years. After returning to school to get a doctorate, she was a teacher educator in the State University of New York system for over twenty years. Since 2007, she has lived in the Catskill Mountains with her partner, Kent Garrett.
Praise For…
---
An Essence Black History Month Pick "This engaging story of eighteen remarkable black men admitted to Harvard's class of 1963 is an eye-opener.  Brilliantly placed in historical context, including the unfolding of the Civil Rights Movement, The Last Negroes at Harvard conveys an important message.  Namely, the willingness of these young men to embrace, not retreat from, the challenges of racial interaction in an elite setting is in no small measure a reflection of individual pride, self-confidence, and efficacy."—William Julius Wilson, author of When Work Disappears and More than Just Race "[This] beautifully written narrative…offers a gripping snapshot of how these students 'stood out and blended in' as the largest incoming Harvard class of African Americans to date and for a number of years to come. Garrett is a keen observer of his fellow students, and he explores how this experience sharpened his critical thinking skills and raised his consciousness of Negroes as Afro-Americans (later African Americans), Afro-Caribbeans, and Africans. Essential reading for those interested in civil rights, racial identity, and higher education."—Library Journal, starred review   "These extraordinary men chart life journeys that were full of challenges…but also full of accomplishments. Garrett writes with an easy, charming style, but the sense of injustice is palpable. A fine contribution to the literature of civil rights and the African American experience."—Kirkus, starred review "[Garrett] and coauthor Ellsworth eloquently describe the pressures these students were under, drawing an insightful portrait of the limits of racial progress in America. Expertly blending memoir and cultural history, this outstanding retrospective deserves to be widely read."—Publishers Weekly, starred review "Explores, with candor, verve, and a documentary journalist's precision, a historic crossroads between the elite echelons of higher education and the civil rights movement."—Boston Globe "The Last Negroes at Harvard is an accomplished work of collective autobiography that tells a compelling story of incipient transformation in a transformative time—but in a place seemingly impervious to disruption."—New York Journal of Books "Garrett's memoir offers an instructive peek at a Harvard that has been transformed."—Washington Post —
Coverage from NPR