The Adventurers Guild (Paperback)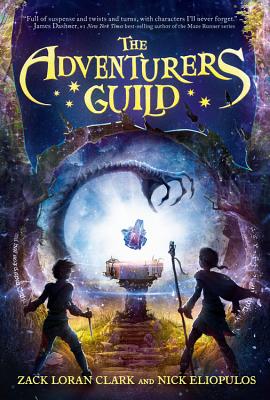 List Price: $7.99
Our Price: $6.79
(Save: $1.20 15%)
Warehouse, In Stock | Usually Ships in 1-5 Days | New
Other Books in Series
This is book number 1 in the The Adventurers Guild series.
Description
---
In one of the last cities standing after the world fell to monsters, best friends Zed Kagari and Brock Dunderfel have high hopes for the future. Zed desperately wishes to join the ranks of the Mages Guild, where his status as Freestone's only half elf might finally be an asset. Brock, the roguishly handsome son of merchants, is confident he'll be welcomed into the ranks of the Merchants Guild.

But just as it seems the boys' dreams have come true, their lives take a startling turn . . . and they find themselves members of the perilous Adventurers Guild. And when the boys uncover a conspiracy that threatens all of Freestone, Zed, Brock, and their new allies-Liza, a fierce noble, and Jett, a brave dwarf-must prove their worth once and for all.

"The perfect mix of suspense, Princess Bride humor, and engaging characters...A dazzling adventure sure to become a classic." -- Kirkus, starred review

Also available in the series: Twilight of the Elves
Night of Dangers
About the Author
---
Zack Loran Clark and Nick Eliopulos are best friends living in New York. They have been playing Dungeons & Dragons together every week for more than a decade. Zack secretly wishes that he were an elf; Nick publicly denies that he is a dragon. You can learn more about The Adventurers Guild trilogy at www.theadventurersguildbooks.com.
Praise For…
---
A Kirkus Reviews Best Middle Grade BookA Junior Library Guild Selection

*"This tale is a page-turner that has the perfect mix of suspense, Princess Bride humor, and engaging characters, one that's definitely earned the sequel to come. A dazzling adventure sure to become a classic, if not a movie."—Kirkus, starred review

"The Adventurers Guild stands out within the fantasy genre, displaying a wonderfully diverse cast of characters... Simply great fun to read... A rough-and-tumble adventure story with monsters, intrigue and a heart of gold."—p.p1 {margin: 0.0px 0.0px 0.0px 0.0px; font: 10.0px Arial; color: #111111}Shelf Awareness

"If you're someone who likes a thrilling adventure with a surprise on every page, this book is for you."—p.p1 {margin: 0.0px 0.0px 0.0px 0.0px; font: 10.0px Arial; color: #111111}Time for Kids

"Clark and Eliopulos... establish a strong core of interesting male and female characters and thrust them into action, while setting up relationships, conflicts, and mysteries to explore in later volumes. With its quick pace and likable heroes, this fantasy adventure will readily find a following."—p.p1 {margin: 0.0px 0.0px 0.0px 0.0px; font: 10.0px Arial; color: #111111}Booklist

"Fast-paced adventure. The diverse group of friends... works solidly as a team, but secrets and divided loyalties create enough tension to keep things interesting...A cliffhanger of an ending sets up a larger conflict for the next volume, and readers will be eager to join the guild for their further adventures."—p.p1 {margin: 0.0px 0.0px 0.0px 0.0px; font: 10.0px Arial; color: #111111}BCCB

"A solidly constructed world, endearing characters, and lots of fantasy-based adventure with fast-paced action."—p.p1 {margin: 0.0px 0.0px 0.0px 0.0px; font: 10.0px Arial; color: #111111}School Library Journal

"Hazards, betrayals, and quick-witted banter abound in this gripping series opener... Clark and Eliopulos weave a thread of post-apocalyptic adventure into a classic questing saga, replete with spells, enchanted weaponry, and mythological beings--elves, kobolds, gelatinous goo, and more."—p.p1 {margin: 0.0px 0.0px 0.0px 0.0px; font: 10.0px Arial; color: #111111}Publishers Weekly