A Code of Jewish Ethics, Volume 2: Love Your Neighbor as Yourself (Hardcover)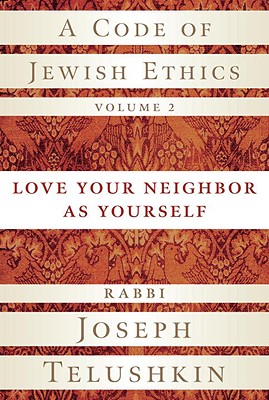 List Price: $32.50
Our Price: $30.88
(Save: $1.63 5%)
Other Books in Series
This is book number 2 in the A Code of Jewish Ethics series.
Description
---
"Jewish thinkers don't talk all that much about love. All too often we leave that to Christian theologians. But in this excellent volume, Rabbi Joseph Telushkin puts the commandment to love at the center of Jewish theology and experience. This is a book that will change the way you think about–and practice–Judaism."
–Professor Ari L. Goldman, Columbia University, and author of The Search for God at Harvard

"Love your neighbor as yourself" is the best-known commandment in the Bible. Yet we rarely hear anyone talk about how to apply these words in daily life. In this landmark work, Rabbi Joseph Telushkin, one of the premier scholars and thinkers of our time, gives both Jews and non-Jews an extraordinary summation of what Jewish tradition teaches about putting these words into practice.

Writing with great clarity and simplicity as well as with deep wisdom, Telushkin covers topics such as love and kindness, hospitality, visiting the sick, comforting mourners, charity, relations between Jews and non-Jews, compassion for animals, tolerance, self-defense, and end-of-life issues. This second volume of the first major code of Jewish ethics written in the English language is breathtaking in its scope and will undoubtedly influence readers for generations to come. It offers hundreds of practical examples from the Torah, the Talmud, the Midrash, and both ancient and modern rabbinic commentaries–as well as contemporary anecdotes–all teaching us how to care for one another each and every day.

A Code of Jewish Ethics, Volume 2: Love Your Neighbor as Yourself is a consummate work of scholarship. Like its acclaimed predecessor, which received the National Jewish Book Award, it is rich with ideas to contemplate and discuss, while being primarily a book to live by. Nothing could be more important in these strife-torn times than learning how to love our neighbors as ourselves. The message of this book is as vital and timely now as it has been since time immemorial.
About the Author
---
Rabbi Joseph Telushkin is a spiritual leader and scholar, and the author of 15 books, including Jewish Literacy and The Book of Jewish Values. He is also a senior associate of CLAL, the National Jewish Center for Learning and Leadership; a board member of the Jewish Book Council; and the rabbi of the Los Angeles–based Synagogue for the Performing Arts. He lives in New York City and lectures regularly throughout the United States.
Praise For…
---
"Masterfully presented, Telushkin's straightforward opinions are supported by enlightening anecdotes drawn from the Bible, Talmud and Midrash as well as contemporary Jewish and non-Jewish thinkers. While this superlative compendium focuses on Jewish ethics, people of all faiths will find the precepts so unambiguously presented here to have significant value."
—Publishers Weekly

"Rabbi Joseph Telushkin has done it again! An amazing task, clarifying and elaborating upon the essential elements of Judaism. To present a most scholarly work in a reader-friendly ­format is truly an achievement. This is a book that should be in every Jewish home."
—Rabbi Abraham J. Twerski, M.D., author of Do Unto Others

"An extraordinary work by one of the most knowledgeable and committed writers of our time. This twenty-first-century Jewish ethical master knows the texts of our tradition and, with wit and care, weaves together sources and stories, providing us with a powerful guide for action in today's world."
—Ruth W. Messinger, president, American Jewish World Service

"This stunning volume, filled with three thousand years of wisdom drawn from Judaism's holiest books and most insightful teachers, shows us the way to become kinder, more ­perceptive, and more compassionate, no matter what our faith. Rabbi Telushkin's examples and anecdotes moved me to tears. It is, perhaps, the most important book for ­everyone who cares about one of the most important issues we all face–how to become a more ­loving person."
—Rabbi David Woznica, Stephen S. Wise Temple

"With psychological sensitivity and a personal warmth that radiates through the erudition of his pages, Rabbi Telushkin reveals the vast moral insights contained in the rabbinic ­tradition. The abstract commandment to 'love one's neighbor as oneself' is brought down to earth in a web of compassionate moral dictates that bear witness to a civilization at a state of inspiring moral development. In doing justice to this arching achievement, this work itself achieves a moral grandeur."
—Rebecca Goldstein, MacArthur Fellow and author of Betraying Spinoza