Waiting for High Tide (Hardcover)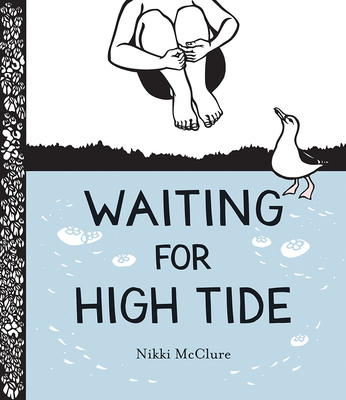 List Price: $19.95
Our Price: $13.95
(Save: $6.00 30%)
Description
---
Waiting for High Tide has earned two STARRED reviews from Publisher's Weekly and Kirkus!

For one young boy, it's a perfect summer day to spend at the beach with his family. He scours the high tide line for treasures, listens to the swizzling sound of barnacles, and practices walking the plank. But mostly he waits for high tide. Then he'll be able to swim and dive off the log raft his family is building. While he waits, sea birds and other creatures mirror the family's behaviors: building and hunting, wading and eating. At long last the tide arrives, and human and animal alike savor the water.
Another beautiful ode to life lived in harmony with nature, and by the labor of one's own hands, from an artist of great warmth and clarity.

About the Author
---
Nikki McClure is a self-taught cut-paper artist and the author-illustrator of many books for children, including In; To Market, To Market; Waiting for High Tide; and Mama, Is It Summer Yet? She lives in Olympia, Washington.
Praise For…
---
**STARRED REVIEW**
"Lavish with words and images in a story that is a worthy heir to Robert McCloskey's work… The sense of place is so rich that it seems possible to smell the air and hear the gulls."

— Publisher's Weekly

**STARRED REVIEW**
"Astounding full-bleed, cut-paper illustrations (in black and white with isolated use of pink and blue) appear opposite the narrative—muted, matte, and miraculous. Clumped kelp, rippling water, clambering crabs, banks of barnacles, round cheeks, the curvature, of feathers and barbed beaks, bark on logs—all achieve extraordinary, evocative clarity through lacy cutouts within the context of gratifying, gorgeous compositions. The tide has brought an extraordinary book to our shores."
— Kirkus

"… McClure's cut-paper images are at once sweeping in their scale and extraordinary in their detail... A splendid seaside tour worth poring over. For general picture book collections as well as curriculum units on natural science."
— School Library Journal

**STARRED REVIEW**
"McClure's distinctive artwork—black paper cut with an X-ACTO knife and fountain pen—has never been richer. The simple palette of black, white, and blue, accented with the occasional pink (the sunglasses, the heron's long legs, the gulls' feet), is stunning. Children will love searching for the marine animals and detritus. Delicately penned endpapers illustrate the steps in raft-building, and some shore creatures. A celebration of the natural beauty of a summer's day on the Olympic Coast."
— Booklist

"Stunning paper-cut and fountain ink illustrations bring readers to the Salish Sea for a day of raft building and waiting for high tide."
— School Library Connection