My Chickens and I (Hardcover)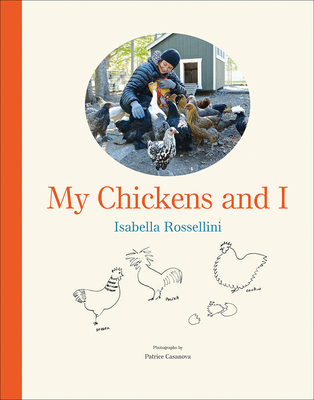 List Price: $24.99
Our Price: $23.74
(Save: $1.25 5%)
Description
---
In this delightful illustrated book, actress and filmmaker Isabella Rossellini shares her newfound passion for raising chickens. When a cardboard carton dotted with airholes arrived at her door, Rossellini expected to welcome 38 yellow chicks to her Long Island farm. Much to her surprise, her newly hatched brood included a diverse mix of heritage breeds—a discovery that prompted further research into the traits, behavior, and history of each one. Perfectly capturing the fine-feathered glory and surprising intelligence of these spirited backyard birds, My Chickens and I pairs Patrice Casanova's photographs with Rossellini's wry observations, fun facts, and hand-drawn illustrations.
About the Author
---
Isabella Rossellini is an actress, filmmaker, and philanthropist known for her roles in such films as David Lynch's Blue Velvet and Wild at Heart, Campbell Scott and Stanley Tucci's Big Night, and Peter Weir's Fearless. Isabella is also the author and director of the book and short film series Green Porno. She lives on Long Island.

Patrice Casanova is a French-born portrait photographer whose past subjects have included Jessica Lange, Brooke Shields, Patti Hansen, and others. He lives on Long Island.
Praise For…
---
"When I heard that Isabella Rossellini had written a book about chickens, I was intrigued. What did the actress, face of Lancome, muse to Martin Scorsese and David Lynch, and daughter of cinema royalty (Ingrid Bergman, the three-time Oscar-winning actor, and Roberto Rossellini, the Italian neo-realist director), know about hens? Quite a lot, it turns out. [...] It might be hard to warm to a chicken but she loves hers, and her affection for the birds bubbles up on every page of her new book, My Chickens and I, in which they appear in her own line drawings, as well as in photographs taken by her fashion photographer friend Patrice Casanova, who shot them against a white backdrop, as if they were models."
— Telegraph Magazine

"If April is making you feel like a proverbial spring chicken, then look no further than Isabella Rossellini's new book. In this delightful illustrated guide, the actress and filmmaker shares her newfound passion for raising these backyard birds and walks us through their upbringing, from their arrival in a cardboard box dotted with air holes to the fine-feathered specimens they have become."
— Daily Mail

"Isabella Rossellini and chickens may seem an unlikely pairing, but it is in fact the subject of a book by the actor herself. Celebrating her passion for raising heritage-breed hens, it includes hand-drawn illustrations and wry observations on each breed, making it a helpful guide with a twist"
— Country Living

"Sitting in a light-filled suite at The Savoy hotel, London, the daughter of actress Ingrid Bergman and director Roberto Rossellini is regaling a group of beauty journalists with stories about her chickens—she has compiled a book, My Chickens and I. Isabella lives on a 28-acre farm on Long Island, New York. She sells her vegetables at a farmers' market and she's studying for a master's degree in animal behaviour."
— Hello! magazine

"My Chickens and I is a newly released study of the history, behaviour, appearance and distinctive traits of heritage breed chickens—told via illustrations, photographs, factual tidbits and anecdotes—by none other than Isabella Rossellini."
— AnOtherMag.com

"Patrice's photography is stunning and when combined with Isabella's hand-drawn illustrations and wry observations, make for an unusual book, a bewitching one that is full of heart and soul. It's a wonderful tribute to the new feathered members of her family."
— Smallholder magazine