Guardians of Liberty: Freedom of the Press and the Nature of News (Hardcover)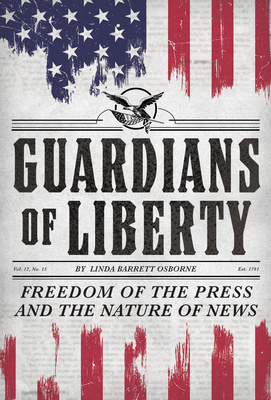 List Price: $18.99
Our Price: $18.04
(Save: $0.95 5%)
Warehouse, In Stock | Usually Ships in 1-5 Days | New
Description
---
A riveting introduction to the crucial role of First Amendment rights and the media

Guardians of Liberty explores the essential and basic American ideal of freedom of the press. Allowing the American press to publish—even if what they're reporting is contentious— without previous censure or interference by the federal government was so important to the Founding Fathers that they placed a guarantee in the First Amendment to the Constitution. Citing numerous examples from America's past, from the American Revolution to the Vietnam War and the Civil Rights Movement to Obama's and Trump's presidencies, Linda Barrett Osborne shows how freedom of the press has played an essential role in the growth of this nation, allowing democracy to flourish. She further discusses how the freedoms of press and speech often work side by side, reveals the diversity of American news, and explores why freedom of the press is still imperative to uphold today. Includes endnotes, bibliography, and index
About the Author
---
Linda Barrett Osborne is the author of Traveling the Freedom Road, Miles to Go for Freedom, This Land Is Our Land, and Come On In, America. She was a senior writer-editor in the Library of Congress Publishing Office for 15 years. She lives in Washington, DC.
Praise For…
---
"Her survey of the seesaw between freedom of the press and government clampdowns, focused on federal law and the Supreme Court, is most passionate about the clear practical advantages of a free news media for democracy's functioning…The book also touches on illuminating, less-known episodes such as the American press's skepticism about the government's party line during the Korean War, and the 1988 Supreme Court decision that continues to withhold First Amendment protections from high school journalists."
— New York Times Book Review
"Deeply researched and beautifully written,
Guardians of Liberty
enlightens and entertains readers of any age."
— Michael Dirda, Pulitzer Prize-winning critic for the Washington Post
"A free society cannot function without a free press, and Osborne explains this very effectively in this thorough, comprehensive look at the history of freedom of the press in the U.S. . . a very valuable book."
— Maxwell King, former editor of the Philadelphia Inquirer and president of the Pittsburgh Foundation
"An eloquent and comprehensive history of press freedom. . . a great resource volume as well as a darn good read!"
— Jen Bryant, author and winner of a Robert F. Sibert Medal
"A masterful history of press freedom in America."
— Don Brown, author and winner of a Robert F. Sibert Honor
**STARRED REVIEW**
"Offers an excellent foray into the hows and whys of U.S. press freedom, beginning just prior to nationhood. . .Timely, essential reading."
— Kirkus Reviews
" [An] informative, timely resource."
— Booklist