Never Mix Sin with Pleasure (The Infamous Lords #5) (Mass Market)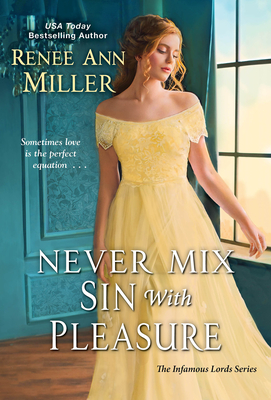 List Price: $8.99
Our Price: $7.64
(Save: $1.35 15%)
Other Books in Series
This is book number 5 in the The Infamous Lords series.
Description
---
"A thief and a libertine fall in love on a bed of lies in Miller's passionate, intoxicating fifth Infamous Lords Victorian romance… Justice, deception, and loyalty form the core of this entrancing affair."
—Publishers Weekly STARRED REVIEW on Never Mix Sin With Pleasure

With the proper calculations, even a reckless rake and a secretly infamous woman can find a love they can count on...

No one would ever guess that Olivia Michaels, companion to an elderly dowager, is really the thief the London newspapers have nicknamed the Phantom. Working in a nobleman's home is the perfect guise to gather information, allowing her to exact her own justice on several wicked noblemen. But when the dowager's grandson, notorious ne'er-do-well Lord Anthony Trent, requires her assistance with some tasks of his own, Olivia discovers that the charming rogue may be capable of stealing something himself--her heart...

Anthony has his own secret: Numbers get jumbled in his head. He's cultivated his reckless reputation as a way to avoid dealing with his family's businesses. Yet as obligations fall on him, he's determined to prove his worth, and Olivia's genius for numbers is a boon he hadn't expected. But as the pair pore over ledgers together each evening, their connection blooms into a heated flirtation that threatens to expose the secrets each of them has been hiding...

Can desire and deception ever add up to true love?
About the Author
---
USA Today bestselling author Renee Ann Miller writes sexy historical romances. She is a two-time Golden Heart Award finalist from Romance Writers of America® and a RITA Award nominee. Renee penned her first book at the tender age of seven and even drew the impressive stick figures--though clearly those characters weren't as spicy as the ones she writes now. Renee loves romantic stories, excessive amounts of chocolate, and gardening. She lives in the Northeast with her wonderful husband. You can find out more about Renee and the stories she's working on at Reneeannmiller.com.
Praise For…
---
Praise for NEVER MIX SIN WITH PLEASURE

A thief and a libertine fall in love on a bed of lies in Miller's passionate, intoxicating fifth Infamous Lords Victorian romance. Olivia Michaels grew up in an orphanage and now uses the access granted by her position as paid companion to elderly Lady Winton to steal from philandering nobles and donate to the orphanages housing their unclaimed children. When Olivia accidentally stumbles into the carriage of notorious rake Lord Anthony Trent, Lady Winton fires her for the perceived indiscretion. Feeling responsible, Anthony offers Olivia a position as temporary companion to his cantankerous grandmother. And when he discovers she's a whiz with numbers—a skill he's always struggled with—he recruits her to assist him with his ledgers as well, hoping to conceal his dyscalculia and preserve his family's reputation. They grow closer, often celebrating the day's accomplishments with nights out. Anthony makes Olivia feel valued, while she fuels his ambition with her unwavering faith in his abilities. Though both are keeping secrets, their honest mutual support irrevocably bonds them even as they wrestle with how truthful they can be with one another. Justice, deception, and loyalty form the core of this entrancing affair. 
—Publishers Weekly STARRED REVIEW on Never Mix Sin With Pleasure

Praise for NEVER CONSPIRE WITH A SINFUL BARON

"…smooth talking Elliot's secret heart of gold is sure to make romance fans swoon."
—Publishers Weekly

"…a charming entry featuring a surprisingly sweet hero engaging in a romantic rivalry to win a most worthy heroine.
—Library Journal

Praise for NEVER DECEIVE A VISCOUNT

"A delightful romance filled with period ambiance." 
—Publishers Weekly

"Well worth the wait."
—Kirkus Reviews

"Richly written...will charm readers."
—Booklist

Praise for NEVER DARE A WICKED EARL

"...a highly enjoyable read, packed with danger and intrigue, snappy banter, sexy times, Secret Pain and Past Heartaches and a happy-ever-after that's exactly what I wanted."
—NPR

"This first novel will surely have readers looking forward to the second in the series."
—Bookpage

"Miller debuts with a highly enjoyable start to her Infamous Lords series that beautifully combines humor and poignancy within a battle of wills and wiles."
—RT Book Reviews, 4 Stars