Doomsday Preppers Complete Survival Manual: Expert Tips for Surviving Calamity, Catastrophe, and the End of the World (Paperback)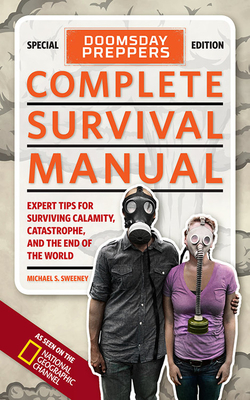 List Price: $19.95
Our Price: $18.95
(Save: $1.00 5%)
Description
---
This custom companion to the blockbuster National Geographic Channel series Doomsday Preppers is filled with how-to illustrations, "Prepper Profiles" of people in the show, and survival tips from preppers themselves. Handy and comprehensive, the manual offers valuable life-saving information to help prepare for the most devastating calamities. Episodes of this highly original show, which debuted in February 2012, explore the lives of otherwise ordinary Americans who are preparing for the end of the world as we know it. Preppers go to extraordinary lengths to plan for any of life's uncertainties, from constructing a home out of shipping containers and stockpiling 50,000 lbs. of food to practicing evacuation drills and hand-to-hand combat. This book is an essential component.
About the Author
---
Dr. MICHAEL S. SWEENEY is a professor at Ohio University's E.W. Scripps School of Journalism, where he serves as director of the graduate program and teaches print journalism courses.
He has written a variety of books for National Geographic Books, including God Grew Tired of Us,Brain: The Complete Mind, and BrainWorks. He also has published academically on the history of wartime journalism, and particularly on the methods and effectiveness of censorship in wartime. His first book, Secrets of Victory, about the American Office of Censorship in World War II, was named book of the year for 2001 by the American Journalism Historians Association. He is associate editor of Journalism History, a quarterly academic journal published at the Scripps School.

Dr. Sweeney received his bachelor's degree from the University of Nebraska, his master's from the University of North Texas, and his Ph.D. from Ohio University. He lives in Athens, Ohio, with his wife, Carolyn.