Tracking Tyrannosaurs: Meet T. rex's fascinating family, from tiny terrors to feathered giants (Hardcover)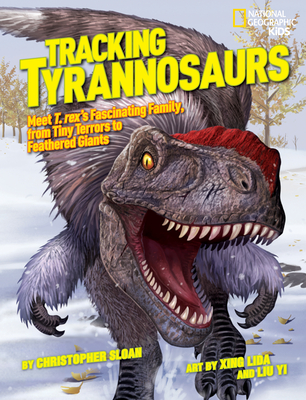 List Price: $18.95
Our Price: $16.11
(Save: $2.84 15%)
Description
---
This book highlights a newly discovered T. rex relative in China with a coat of downy feathers! This one-ton predator is the largest known animal to ever have walked the Earth. This discovery was made public in April 2012, and is a timely addition that sets this book apart from other dinosaur titles. 

We meet 19 kinds of tyrannosaurs--including seven new species discovered in the last two years--that came before T. rex. The names are strange, like Bistahieversor and Zhuchengtyrannus. The creatures were strange, too, and many of the newly discovered ones caught scientists by surprise. 

Filled with engaging, lifelike illustrations by Xing Lida, Tracking Tyrannosaurs explains to kids how T. rex, the most famous, ferocious dinosaur of all-time was only one of many tyrannosaurs that lived on Earth for over 100 million years!
About the Author
---
Formerly a Senior Editor and Director of Mission Projects for National Geographic magazine, CHRISTOPHER SLOAN specializes in ancient civilizations, early humans, and prehistoric life. He has written seven children's books, which have appeared on numerous best book lists, including School Library Journal Best Books of the Year, Booklist Editors' Choice, Garden State Children's Book Award, Outstanding Science Trade Books for Students K-12 (NSTA/CBC), and the Children's Literature Choice List.
Praise For…
---
Selected as a 2014 Outstanding Science Trade Book for Students K-12 by the National Science Teachers Association (NSTA) and the Children's Book Council