Someone: A Novel (CD-Audio)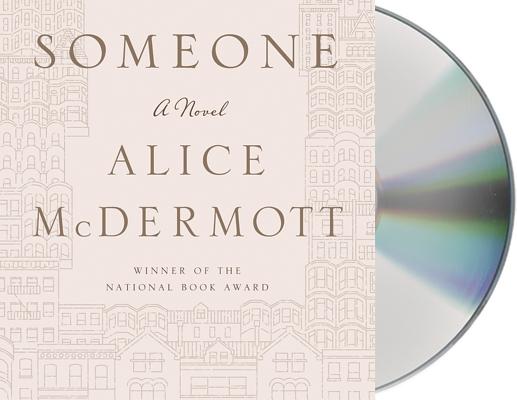 $29.99
This item is backordered and not currently available. Please contact us for an estimated availability date.
September 2013 Indie Next List
---
"'Who's going to love me? Marie asks her brother after being dumped by her first boyfriend. 'Someone,' he tells her. 'Someone will.' Love is only one of the themes that weave together these non-linear stories in Alice McDermott's latest mesmerizing novel. The tale is told through Marie's memories, as a little girl, an old woman, a mother. Snapshot after snapshot of events in a Brooklyn neighborhood come together seamlessly to tell the endlessly fascinating story of someone's life. -- Sharon K. Nagel, Boswell Book Company, Milwaukee, WI"
— Sharon K. Nagel, Boswell Book Company, Milwaukee, WI
Description
---
A fully realized portrait of one woman's life in all its complexity, by the National Book Award–winning author

An ordinary life—its sharp pains and unexpected joys, its bursts of clarity and moments of confusion—lived by an ordinary woman: this is the subject of Someone, Alice McDermott's extraordinary return, seven years after the publication of After This. Scattered recollections—of childhood, adolescence, motherhood, old age—come together in this transformative narrative, stitched into a vibrant whole by McDermott's deft, lyrical voice.
Our first glimpse of Marie is as a child: a girl in glasses waiting on a Brooklyn stoop for her beloved father to come home from work. A seemingly innocuous encounter with a young woman named Pegeen sets the bittersweet tone of this remarkable novel. Pegeen describes herself as an "amadan," a fool; indeed, soon after her chat with Marie, Pegeen tumbles down her own basement stairs. The magic of McDermott's novel lies in how it reveals us all as fools for this or that, in one way or another.
Marie's first heartbreak and her eventual marriage; her brother's brief stint as a Catholic priest, subsequent loss of faith, and eventual breakdown; the Second World War; her parents' deaths; the births and lives of Marie's children; the changing world of her Irish-American enclave in Brooklyn—McDermott sketches all of it with sympathy and insight. This is a novel that speaks of life as it is daily lived; a crowning achievement by one of the finest American writers at work today.

A Publishers Weekly Best Fiction Book of the Year

A Kirkus Reviews Best Fiction Book of 2013

A New York Times Notable Book of 2013

A Washington Post Notable Fiction Book of 2013

An NPR Best Book of 2013


Includes a bonus interview with Alice McDermott and her editor Jonathan Galassi

Program features original music composed specifically for the novel:
Beginnings (W. Armstrong/traditional) • You Don't Want to Go Into New York City (W. Armstrong) • It Is All Solved by Walking (W. Armstrong)
About the Author
---
Alice McDermott is the author of several novels, including The Ninth Hour; Someone; After This; Child of My Heart; Charming Billy, winner of the 1998 National Book Award; and At Weddings and Wakes—all published by FSG. That Night, At Weddings and Wakes, and After This were all finalists for the Pulitzer Prize. Her stories and essays have appeared in The New York Times, The Washington Post, The New Yorker, Harper's Magazine, and elsewhere. For more than two decades she was the Richard A. Macksey Professor of the Humanities at Johns Hopkins University and a member of the faculty at the Sewanee Writers Conference. McDermott lives with her family outside Washington, D.C.

Kate Reading is the recipient of multiple AudioFile Earphones Awards and has been named by AudioFile magazine as a "Voice of the Century," as well as the Best Voice in Science Fiction & Fantasy in 2008 and 2009 and Best Voice in Biography & Culture in 2010. She has narrated works by such authors as Jane Austen, Robert Jordan, Edith Wharton, and Sophie Kinsella. Reading has performed at numerous theaters in Washington D.C. and received a Helen Hayes Award for her performance in Aunt Dan and Lemon. AudioFile magazine reports that, "With subtle control of characters and sense of pacing, Kate's performances are a consistent pleasure."
Praise For…
---
"An excellent performance. Kate Reading makes the range of emotions entirely believable." —Publisher's Weekly

"McDermott's nuanced writing turns the mundane into poetry. Kate Reading's narration fits perfectly." —AudioFile

"Kate Reading narrates the story in a smooth, easy voice and takes great care to match McDermott's pacing and to highlight her lyrical writing. She has created a fitting ode to McDermott's luminous novel." —Booklist

"In this deceptively simple tour de force, McDermott . . . lays bare the keenly observed life of Marie Commeford, an ordinary woman whose compromised eyesight makes her both figuratively and literally unable to see the world for what it is . . . We come to feel for this unremarkable woman, whose vulnerability makes her all the more winning--and makes her worthy of our attention. And that's why McDermott, a three-time Pulitzer nominee, is such an exceptional writer: in her hands, an uncomplicated life becomes singularly fascinating, revealing the heart of a woman whose defeats make us ache and whose triumphs we cheer. Marie's vision (and ours) eventually clears, and she comes to understand that what she so often failed to see lay right in front of her eyes." —Publishers Weekly (starred)

"One of the author's most trenchant explorations into the heart and soul of the 20th-century Irish-American family . . . Marie's straightforward narration is interrupted with occasional jumps back and forward in time that create both a sense of foreboding and continuity as well as a mediation on the nature of sorrow . . . Marie and Gabe are compelling in their basic goodness, as is McDermott's elegy to a vanished world." —Kirkus

"Readers who love refined, unhurried, emotionally fluent fiction will rejoice at National Book Award–winner McDermott's return. McDermott . . . is a master of hidden intensities, intricate textures, spiked dialogue, and sparkling wit. We first meet Marie at age seven, when she's sitting on the stoop in her tight-knit, Irish-Catholic Brooklyn neighborhood, waiting for her father to come home from work. Down the street, boys play stickball, consulting with dapper Billy, their blind umpire, an injured WWI vet. Tragedies and scandals surge through the enclave, providing rough initiations into sex and death . . . A marvel of subtle modulations, McDermott's keenly observed, fluently humane, quietly enthralling novel of conformity and selfhood, of 'lace-curtain pretensions' as shield and camouflage, celebrates family, community, and 'the grace of a shared past.'" —Donna Seaman, Booklist (starred)