Dinner on Primrose Hill (Large Print / Library Binding)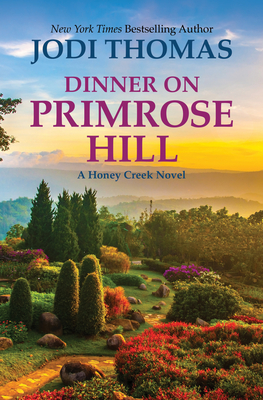 $39.59
This item is backordered. Please contact us for an estimated availability date.
Description
---
A slice of Americana delivered with her characteristic warmth, endearing characters, and authentic Texan flair, the third Honey Creek novel by New York Times and USA Today bestselling author Jodi Thomas takes readers to Clifton Bend, Texas, a small college town where two very different scientists must team up on an experiment on "The Chemistry of Mating." Can these two opposites attract and quantify the science of love?
Benjamin Monroe is pretty sure how his life will play out. He'll continue teaching chemistry in his small college, and spend his free time biking through the valley. Eventually, he'll retire to putter around in his garden and greenhouse. His colleague, Virginia Clark, is not one for routines. She's chatty, spontaneous, and bubbly, and before Benjamin realizes what happened, she's talked him into collaborating on a research project--studying the mating habits of college students. Virginia knows her desire to work with Benjamin is motivated by more than the potential prize money...and hopes he might not be quite as indifferent as he seems to be. Ketch Kincaid, one of Benjamin's star students, returned to college after serving in the army. He needs something to get his mind off his recent breakup and collecting research data might do it. And there's another distraction on the horizon--a woman who looks like she, too, knows about heartache. Soon enough, their project, The Chemistry of Mating, is gaining notoriety. Friends, neighbors...the whole town has become involved. But no matter what the data determines, one conclusion seems inescapable: love follows its own rules...
About the Author
---
Jodi Thomas is a New York Times bestselling author and fifth-generation Texan who sets many of her award-winning stories in her home state, where her grandmother was born in a covered wagon. A multi-RITA(R) Award-winner and member of the prestigious Romance Writers of America Hall of Fame, she's written over 50 novels with millions of copies in print. Jodi lives in Amarillo, Texas and can be found online at JodiThomas.com.