APA Handbook of Trauma Psychology: Volume 1. Foundations in Knowledge Volume 2. Trauma Practice (APA Handbooks in Psychology(r)) (Other)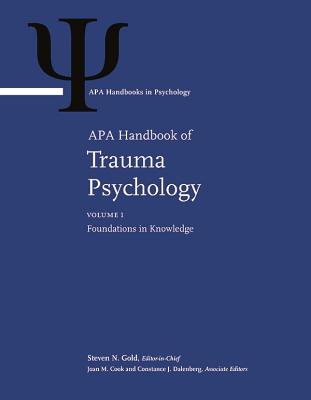 $536.48
This item is backordered and not currently available. Please contact us for an estimated availability date.
Description
---
The two volume APA Handbook of Trauma Psychology is the most comprehensive guide, text, and reference work on the subject to date. \ The APA Handbook of Trauma Psychology provides a survey of all the major areas and subtopics of empirical knowledge and practical applications in the field of trauma psychology, written by top experts in the field. Volume 1 is divided into sections on the nature of trauma, its psychological impact, major conceptual frameworks for understanding traumatization, and trauma as viewed from the diverse perspective of various disciplines. Volume 2 covers various applications of trauma psychology, including various modalities of trauma assessment, major treatment approaches across the lifespan, and multi-client and organizational practice. The APA Handbook of Trauma Psychology will be an essential resource to specialists in trauma who need comprehensive information, to practitioners who seek to familiarize themselves with the range of approaches for trauma assessment and treatment, or for students as a graduate level or advanced undergraduate level textbook.
About the Author
---
Steven N. Gold, PhD, is a professor at the Nova Southeastern University (NSU) Center for Psychological Studies and director of NSU's Trauma Resolution and Integration Program, which he established in 1990. He served as president of APA Division 56 (Trauma Psychology) in 2009, acted as inaugural editor of Division 56's scientific journal, Psychological Trauma: Theory, Research, Practice, and Policy, from 2008 through 2014, and was the 2014 recipient of Division 56's Award for Outstanding Service to the Field of Trauma Psychology. In 2004, Dr. Gold served as president of the International Society for the Study of Trauma and Dissociation. His research has focused on psychological trauma, posttraumatic stress disorder, dissociation, child abuse, and hypnosis. He has written many articles for professional journals and chapters in edited volumes on abuse, trauma, dissociation, and sexual addiction, and made numerous presentations on these topics at national and international professional conferences. He has been an invited speaker throughout the United States, as well as Canada, Colombia, Argentina, Spain, and Austria. He authored the book Not Trauma Alone: Therapy for Child Abuse Survivors in Family and Social Context, and coedited the books Trauma Practice in the Wake of September 11, 2001 and Trauma and Serious Mental Illness. Dr. Gold was founding coeditor of the Journal of Trauma Practice, and guest edited a special issue of the APA journal Psychotherapy on the treatment of trauma related disorders. He is a certified traumatologist with the Traumatology Institute, and is certified as a consultant in clinical hypnosis by the American Society of Clinical Hypnosis. He is also a member of the International Society for Traumatic Stress Studies, the Society for the Advancement of Sexual Health (formerly the National Council on Sexual Addiction and Compulsivity), and the organization MaleSurvivor. He is on the board of directors of the Sidran Institute for Traumatic Stress Education and Advocacy and the Advisory Board of the Leadership Council on Child Abuse and Interpersonal Violence and on the publications board of APA Division 29 (Society for the Advancement of Psychotherapy). Dr. Gold maintains an independent psychology practice in Plantation, Florida, and in recent years, he has regularly been retained as an expert witness in legal cases in which trauma and dissociation were relevant issues.