Play Therapy with Children: Modalities for Change (Paperback)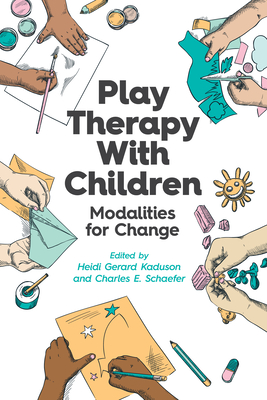 $47.99
This item is backordered and not currently available. Please contact us for an estimated availability date.
Description
---
Reviews the 15 most commonly used play therapy modalities. Play therapy is the treatment of choice for children because it allows children to express their troubles through a natural healing process. This book explains why play therapy works and how to deliver it in the most direct and efficient manner. Each chapter covers a different play therapy modality, including a description of the therapeutic benefits, core techniques, empirical support, and a case study. Fifteen modalities are covered in all: sand play, doll play, block play, drawing, bibliotherapy, storytelling, puppet play, guided imagery, drama, sensory play, clay play, music and movement, board games, electronic games, and virtual reality. Edited by two acknowledged leaders in the field of play therapy, Heidi Gerard Kaduson and Charles E. Schaefer, this volume was written for front line child therapists, including psychologists, counselors, social workers, and other health professionals; it will be an asset to any beginning child and play therapists as well as to experienced child clinicians who wish to expand their therapeutic tool kit.
About the Author
---
Heidi Gerard Kaduson, PhD, RPT-S, specializes in evaluation and intervention services for children with a variety of behavioral, emotional, and learning problems. She has edited and authored many books on play therapy, including Prescriptive Play Therapy: Tailoring Interventions to Specific Childhood Problems; Contemporary Play Therapy; Short-Term Play Therapy for Children, 3d edition; 101 Favorite Play Therapy Techniques; and 101 More Favorite Play Therapy Techniques. She is past president of the Association for Play Therapy and director of The Play Therapy Training Institute in Monroe Township, New Jersey. She maintains a private practice in child psychotherapy in Monroe Township. Charles E. Schaefer, PhD, is an emeritus professor of psychology and former director of the Center for Psychological Services at Fairleigh Dickinson University. He is the cofounder and board member emeritus of the International Association for Play Therapy and is the founder of the Play Therapy Training Institute in New Jersey. With more than 40 years of experience working with children and parents, Dr. Schaefer has received numerous awards for his clinical and research work on child development, parenting, and play therapy; has published more than 60 books and numerous articles and book chapters on play-based interventions; and serves on several journal editorial review boards. His recent books include The Therapeutic Powers of Play (2nd ed.), Foundations of Play Therapy (2nd ed.), Empirically Based Play Interventions for Children (2nd ed.), and Play Therapy for Preschool Children. He is the former director of psychology at The Children's Village in Dobbs Ferry, New York. He maintains a private practice for children and their families in Hackensack, New Jersey.