Treatment for Postdisaster Distress: A Transdiagnostic Approach (Paperback)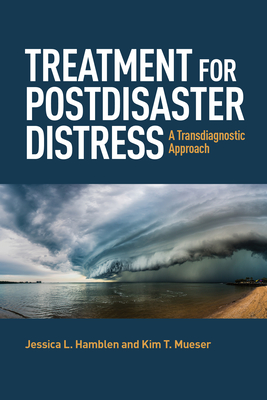 $53.99
This item is backordered and not currently available. Please contact us for an estimated availability date.
Description
---
Disasters are an unpredictable source of complex and often urgent mental health issues. A mass casualty disaster occurs somewhere in the world on a near daily basis, and victims can have symptoms that persist over time. Cognitive behavior therapy for postdisaster distress (CBT-PD) is a transdiagnostic approach to the treatment of a range of problematic symptoms that might not meet criteria for a specific disorder. Over 12 to 14 sessions, the CBT-PD program provides psychoeducation about posttraumatic stress disorder (PTSD) and the broad array of psychological responses to disasters. It teaches core skills that empower clients to take charge of their recovery: breathing retraining (to reduce hyperarousal and anxiety), activity scheduling of pleasant and meaningful events (to reduce depression and avoidance of valued roles), and cognitive restructuring (to reduce negative feelings and change thoughts and beliefs that underlie persistent postdisaster reactions). Refined over 20 years of clinical practice, this research-based approach is associated with significant reductions in PTSD and other distressing symptoms. This practical guide includes therapist scripts and client vignettes, and over two dozen worksheets, assessment tools, and other clinical handouts that mental health providers can use with their clients. Online appendixes including worksheets, assessment tools, and handouts are available at the Clinician and Practitioner Resources section of the book's companion website (https: //www.apa.org/pubs/books/treatment-for-postdisaster-distress).
About the Author
---
JessicaL. Hamblen, PhD, is a clinical psychologist and Associate Professor in the Department of Psychiatry at the Geisel School of Medicine at Dartmouth. She is also the Deputy for Education at the Department of Veterans Affairs' National Center for PTSD. Her research interests are in developing, evaluating, and disseminating evidence-based treatments for PTSD. She has a national reputation as an expert in the long-term mental health response following disaster and has conducted trainings after major national disasters including the September 11th, 2001 terror attacks, and Hurricane Katrina in 2005. KimT. Mueser, PhD, is a clinical psychologist and Professor at the Center for Psychiatric Rehabilitation at Boston University. Dr. Mueser's clinical and research interests focus on the treatment of posttraumatic stress disorder in vulnerable populations and in psychiatric rehabilitation for persons with severe mental illness. He has given numerous workshops on this work, both nationally and internationally, and has coauthored more than 10 books and more than 300 journal articles and book chapters. He has received a number of awards, including the Armin Loeb Research Award and the Emily Mumford Medal for Distinguished Contributions to Social Science in Medicine.