Drawing Perspective: How to See It and How to Apply It (Paperback)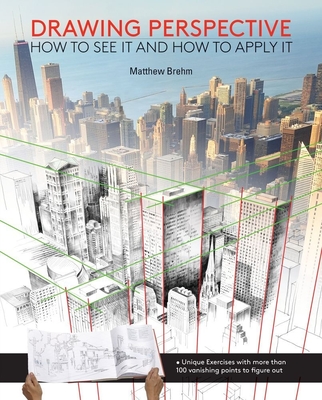 List Price: $19.99
Our Price: $16.99
(Save: $3.00 15%)
Description
---
For beginners or seasoned artists who want to expand their sketching, drawing, or painting abilities, Drawing Perspective: How to See It and How to Apply It is your hands-on guide to learning and applying perspective so you can accurately portray the world around you. Author and art professor Matthew Brehm provides the knowledge you need to expand your artistic capabilities in this insightful, fun, and interactive book.
Part how to draw a set of straight lines that meet at a point, part exercise workbook, this text teaches about 1, 2, and 3-point perspective, as well as mulit-point, and curvilinear perspective. Learn how these perspectives work with fun, practical exercise without lots of dull, dry theory.
The 32-page workbook section will put your observational skills to the test with:
Image Quizzes: take a pen and draw in all the vanishing points onto the book itself
Perspective Chambers: draw objects onto an existing scene, keeping it all in the right perspective—sort of like 3D doodling
Unique exercises with more than 100 vanishing points to figure out
By the time you've completed this book, you will have a keen understanding of how perspective really works. Plus, you'll learn how to look at the world around you, see what's really there, and spot where those invisible straight lines may be located. Perspective will become like a sixth sense to you—one that will add depth and meaning to all of your artistic pursuits.
About the Author
---
Matthew Brehm is an Associate Professor of Architecture at the University of Idaho, where his teaching responsibilities include design studios, graphics courses, and an annual two-month study abroad program in Rome, Italy. Matthew was involved as a founding Board Member of Urban Sketchers and has presented workshops and lectures at several of the group's International Symposiums. He is the author of Sketching on Location.