Degrees of Separation: Identity Formation While Leaving Ultra-Orthodox Judaism (Paperback)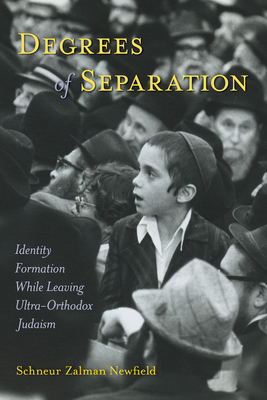 $40.19
This item is backordered and not currently available. Please contact us for an estimated availability date.
Description
---
Those who exit a religion—particularly one they were born and raised in—often find themselves at sea in their efforts to transition to life beyond their community. In Degrees of Separation, Schneur Zalman Newfield, who went through this process himself, interviews seventy-four Lubavitch and Satmar ultra-Orthodox Hasidic Jews who left their communities.He presents their motivations for leaving as well as how they make sense of their experiences and their processes of exiting, detailing their attitudes and opinions regarding their religious upbringing. Newfield also examines how these exiters forge new ways of being that their upbringing had not prepared them for, while also considering what these particular individuals lose and retain in the exit process.
Degrees of Separation presents a comprehensive portrait of the prolonged state of being "in-between" that characterizes transition out of a totalizing worldview. What Newfield discovers is that exiters experience both a sense of independence and a persistent connection; they are not completely dislocated from their roots once they "arrive" at their new destination. Moreover, Degrees of Separation shows that this process of transitioning identity has implications beyond religion.
About the Author
---
Schneur Zalman Newfield is an Assistant Professor of Sociology in the Department of Social Sciences, Human Services, and Criminal Justice, at the Borough of Manhattan Community College, City University of New York.
Praise For…
---
"Degrees of Separation is an original and imaginative investigation of the character and consequences of exiting closed and closely knit religious communities. On the basis of extensive interviews and observation of two Ultra-Orthodox Jewish communities in New York—Lubavitch and Satmar—Newfield examines the experiences and consequences of exiting. He rejects the taken-for-granted assumption that exit can be clean and decisive and hence prefers to talk about 'exiting.' Like whistleblowers, exiting individuals are typically subject to symbolic attacks and are often regarded as psychologically unstable by the community. Exiting can never be complete, because individuals have deeply ingrained habits acquired from early socialization in the community. Degrees of Separation is not simply a study of religious communities; it offers important insights into membership of and exit from any community or 'total institution.'"—Bryan S. Turner, Presidential Professor of Sociology, Emeritus, Graduate Center of the City University of New York, and author of The Religious and the Political: A Comparative Sociology of Religion
"Degrees of Separation is a nuanced, sensitive book about 'exiters'—those who leave their Hasidic communities of origin—for all kinds of reasons. Newfield's account moves beyond a simple binarism, that of staying or going; instead he foregrounds the complicated ways that exiters experience long-term liminality, simultaneously attached to and independent of the totalizing communities in which they grew up. Newfield has written an accessible, fascinating book sure to be of great interest to a wide audience—a real accomplishment."—Ayala Fader, Professor of Anthropology at Fordham University and author of Hidden Heretics: Jewish Doubt in the Digital Age
"[A] fascinating and inspiring read that challenges readers to consider the religious periphery of religious exiters and the development of their new journeys.... Most importantly, it opens a door to a largely unknown world full of mysticism and tradition and highlights the struggle against its oppressive systems. Newfield's own positionality as an ex-Lubavitcher and the realization of his own transcending liminality make this book a very informative yet intimate story—a story of belonging, curiosity, and bravery but also loss and grief."
—Politics, Religion & Ideology