Pack the Court!: A Defense of Supreme Court Expansion (Paperback)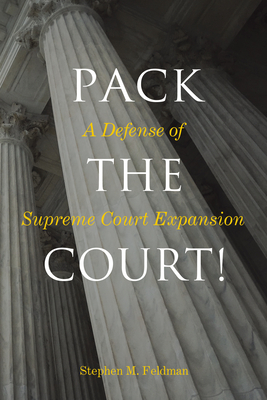 $34.95

Warehouse, In Stock | Usually Ships in 1-5 Days | New
Description
---
The United States Supreme Court has numbered nine justices for the past 150 years. But that number is not fixed. With the Democrats controlling the House and Senate during the Biden presidency, they could add justices to the Supreme Court. But would court packing destroy the Court as an apolitical judicial institution? This is the crucial question Stephen Feldman addresses in his provocative book, Pack the Court! He uses a historical, analytical, and political argument to justify court-packing in general and Democratic court-packing more specifically.
Republicans and Democrats alike profess to worry that court-packing will destroy the legitimacy of the Supreme Court as a judicial institution by injecting politics into a purely legal adjudicative process. But as Feldman's insightful book shows, law and politics are forever connected in judicial interpretation and decision making. Pack the Court! insists that court packing is not the threat to the Supreme Court's institutional legitimacy that many fear. Given this, Feldman argues that Democrats should pack the Court while they have the opportunity. Doing so might even strengthen the American people's faith in the Court.
About the Author
---
Stephen M. Feldman is the Jerry W. Housel/Carl F. Arnold Distinguished Professor of Law and Adjunct Professor of Political Science at the University of Wyoming. He is the author of The New Roberts Court, Donald Trump, and Our Failing Constitution; Free Expression and Democracy in America: A History; and Please Don't Wish Me a Merry Christmas: A Critical History of the Separation of Church and State, among other titles.
Praise For…
---
"Stephen Feldman offers a full-throated defense of the proposition that Democrats should pack the Supreme Court when they get the chance. But Pack the Court! is far more than a policy brief. It develops a clear and cogent argument, accessible to nonspecialists, that law and politics always interact with constitutional law, both in the large—as when justices are appointed—and in the small—as in every decision interpreting the Constitution. Feldman shows court packing wouldn't politicize a nonpolitical institution devoted solely to 'law,' but would respond to the form that politicization has taken on the Roberts Court. This book is an important contribution to public debate and the understanding of our Constitution and the Supreme Court." —Mark Tushnet, Professor Emeritus of Harvard University Law School, and coauthor of Power to the People: Constitutionalism after Populism

"Feldman offers a superb overview of the issues surrounding 'court packing,' the expansion of the Supreme Court. Not only demonstrating that knowledge of American political history is a necessity, Feldman also emphasizes that one must grapple as well with some basic jurisprudential issues—particularly the ostensible separation of 'law' from 'politics.' They are, he shows, inextricably intertwined in what he calls the 'law-politics dynamic.' I cannot think of a better, or more timely, introduction to the ongoing debate about the U.S. Supreme Court and its future." 
—Sanford Levinson, Professor at the University of Texas Law School and Department of Government, and coauthor of Fault Lines in the Constitution: The Framers, Their Fights, and the Flaws that Affect Us Today