Stay (Paperback)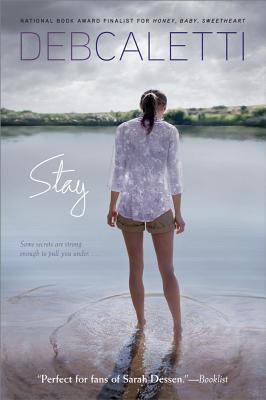 List Price: $9.99
Our Price: $9.49
(Save: $0.50 5%)
Description
---
A dark, romantic novel of love and obsession from Printz Honor medal winner and National Book Award finalist Deb Caletti.

Clara's relationship with Christian is intense from the start, like nothing she's ever experienced before. But what starts as devotion quickly becomes obsession, and it's almost too late before Clara realizes how far gone Christian is—and what he's willing to do to make her stay.

Now Clara has left the city—and Christian—behind. No one back home has any idea where she is, but she still struggles to shake off her fear. She knows Christian won't let her go that easily, and that no matter how far she runs, it may not be far enough…
About the Author
---
Deb Caletti is the award-winning and critically acclaimed author of over sixteen books for adults and young adults, including Honey, Baby, Sweetheart, a finalist for the National Book Award; A Heart in a Body in the World, a Michael L. Printz Honor Book; Girl, Unframed; and One Great Lie. Her books have also won the Josette Frank Award for Fiction, the Washington State Book Award, and numerous other state awards and honors, and she was a finalist for the PEN USA Award. She lives with her family in Seattle.
Praise For…
---
"I LOVED it. Stay is masterfully written and so powerfully honest, it is just an absolutely brilliant read....
I wish I could go back in time and hand this book to my teenage self, it was the kind of book I needed and one I think all teenage girls should read.... The writing is beautiful and full of raw emotion.... The characters are exceptional. Clara is definitely one of the most realistic characters I have read in a while.... Overall, this book is amazing. I highly recommend Stay to all fans of contemporary fiction. Definitely a favourite read for 2011." --Nic at irresistiblereads.blogspot.com



"The way [Caletti] describes things - the characters, settings, the small details - is simply breathtaking. The author has such a talent with words that everything becomes so vivid and alive in front of your eyes.
The plot is gripping! The tension builds up chapter after chapter. As the story progresses, we get to know more of Clara's history with Christian. The characterization is excellent! The author makes you really feel for Clara. I felt her pain, her happiness, her fear and confusion. I could feel her turmoil like it was mine.
One of the best YA contemporary novels I have read.
I read Stay in a day and it was worth it. I believe it's an important book for older and younger readers alike. Stay is dark, moving and hard-hitting."
--Misha @ books-love-affair.blogspot.com



"Caletti's prose is at its best. Perfect for fans of Sarah Dessen's books, this is a moving tale of a
young woman learning how to love, to live, and to forgive."
--Booklist



"My heart was pounding through several chapters... Stay is an emotional masterpiece. It ended up being even better than expected, and is a must read."
--Shanyn @ chickloveslit.com



"Ms. Caletti's writing was gorgeous. There were so many unique and beautiful observations... The way Ms. Caletti was able to push through the norm and dive for something beautiful underneath the current was incredible. Stay is gripping--one part beauty, one part obsession... it's absolutely a novel to check out."
--Amber @ Down the Rabbit Hole (http://amberinblunderland.blogspot.com/)



"This is the best book I have read. Never have I felt more a part of a story, never have I been so involved, so unsure of the outcome, so tentative as Clara moved ahead with her/my life. I wouldn't have Deb Caletti change even one word in this novel. It isn't entertaining. It's more than realistic. It's real."
--Heather @ buriedinbooks.blogspot.com



"The heavens must have opened and sung a beautiful song while Deb Caletti wrote Stay, because this book straight up gets it. Her style is similar to Dessen, as in you know the story is going to be honest and make you feel all sorts of emotions. I felt a genuine connection to Stay."
--April @ goodbooksandgoodwine.com



"Taking an honest look at the dangers of obsession and stalking, Caletti writes a beautiful story that somehow remains hopeful even when the plot takes a sinister twist. Through the story, all characters come to life and become understandable, if not likable. Recommend this book to every teen and parent. This is a danger often overlooked until it is too late because of its subtlety, and the guilt and shame involved."--VOYA