Planes Fly! (Hardcover)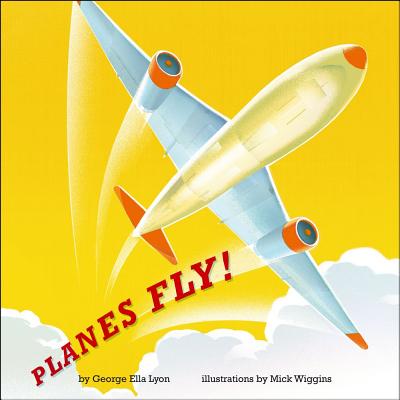 List Price: $19.99
Our Price: $16.99
(Save: $3.00 15%)
Description
---
From the author of Trucks Roll!, an up-in-the-clouds exploration of all things airplane.

World's mighty big
but there's just one sky
and it's yours to travel.

Planes fly!

Take to the skies with this fun, rhyming book about all that planes do! From jet planes to puddle jumpers, from the cockpit to the rudders, this book explores it all—and the bright, dynamic illustrations will keep even the youngest of readers engaged.
About the Author
---
George Ella Lyon is the author of Trucks Roll!, Planes Fly!, and Boats Float!, cowritten with her son Benn. Among George Ella's other books are the ALA Notable All the Water in the World, What Forest Knows, and Time to Fly. A former Kentucky Poet Laureate, she lives with her family in Lexington, Kentucky. Visit her online at GeorgeEllaLyon.com.

Mick Wiggins is an award-winning illustrator living and working in Little Rock, Arkansas. His work can be found in George Ella Lyon's Planes Fly! and at MickWiggins.com.
Praise For…
---
"Lyon takes off to the sky with this exuberant book. Jaunty, bouncing-off-the-tongue rhyming text names aircraft parts, lists different kinds of planes, and describes passenger air-travel experiences, repeating the upbeat refrain, "Planes fly!" throughout. Wiggins's retro-style illustrations amplify the cheerful tone with bright, bold colors and strong, streamlined images. A wonderfully diverse cast of passengers in the aerobus includes a nervous little girl and a little boy. Everything radiates excitement, safety, and competence–even the ominous thunder clouds part for a plane's passage. A reassuring rundown of events that happen between buckling the seatbelt and touching down for landing (including a snack and a nap) makes this title helpful to those new to flying, but it just might fly off the shelves where transportation books are in high demand."
— School Library Journal, July 2013

* "Imagination takes flight in this masterfully illustrated, bouncing verse for the plane-obsessed.

Beautifully composed drawings thrill, as biplanes, jet planes, prop planes and seaplanes take to the skies. Wiggins applies an old travel poster aesthetic to his digital illustrations—and delivers on their promise of adventure, enticing readers into the world of air travel. Soaring into a vast blue sky, he captures the feeling of unlimited space, the freedom of flying. When they are on the ground, his planes are epic, mammoth machines. Even in a storm—with the light bouncing through clouds, illuminating the plane from underneath—the effect is idyllic. His choices, from a warm palette, excellent use of pattern and a texture that alludes to the use of linen paper, make everything about this journey feel special. Lyon's informative, rhyming text touches on the mechanical (from plane parts and types) as well as the emotional (the experiences of both pilot and passenger). Her verse goes beyond enumerating a plane's basic purposes to affirming the spirit of flight and exploration: "Climb through clouds / heading for blue— / just like a bird. / Air holds you."

This exciting invitation to take to the air is one energetic and entertaining journey for adventurers and aviation lovers alike."

— Kirkus Reviews, July 15, 2013, *STARRED REVIEW

"For children intrigued by flight, Lyon has written an energetic and exciting book in rhyme about planes of all sorts: 'Bi-planes/tri-planes/gotta-love-the-sky planes/Prop planes/jet planes/how-fast-can-you-get planes.' With the look of 1930s travel posters, Wiggins's intensely colored pictures show planes at their most glamorous, zipping between storm clouds and swooping low over forest fires. Even the in-flight snacks look appealing. Perhaps the golden age of travel isn't over after all."
— The New York Times Book Review, July 14, 2013

"From the opening sky-blue endpapers, showing the looping paths of paper airplanes launched by silhouetted children, to the concluding endpapers, in which a variety of planes trace similar looping patterns in the sky, this beautifully designed picture book focuses on flight. After introducing many types of aircraft, their purposes, and some of their features, it brings the viewer on board for the experience of flying in a passenger plane. Lyon's rhyming text includes staccato lines that name types of flying machines and communicate the experience of flight, alongside original, childlike phrases, such as "Hand-built gliders / take-you-for-a-riders. / Big air buses / room-for-all-of-us-es." The text leaves plenty of room for illustration, and Wiggins takes full advantage of it in a series of striking images depicting planes in flight, airplane and airport personnel, and a diverse group of passengers. The digital illustrations include a variety of lovely textured effects suggesting light, shadow, and movement. Color is used for beauty and dramatic effect in some scenes, for warmth or definition in others, and in one double-page spread, to create a modern landscape of farmland and mountains as viewed from the air. Children intrigued by flight will enjoy every page of this dynamic picture book."
— Booklist, STARRED REVIEW