All Black Cats are Not Alike (Hardcover)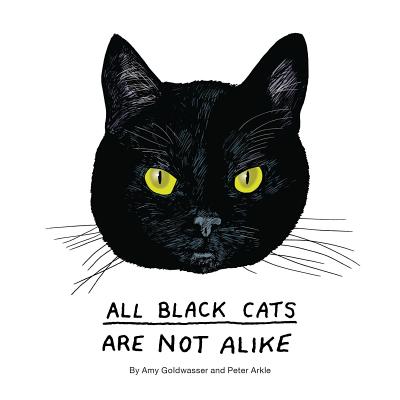 List Price: $15.95
Our Price: $13.56
(Save: $2.39 15%)
Description
---
Every cat owner knows that no two cats are alike. This pitch-perfect illustrated book proves this simple fact by diving whiskers first into the unique personality, charisma, and character of 50 real all-black cats. From Alfie, who "has no tolerance for wet humans or being ignored," to Sashi, who "enjoys freeze-dried chicken by candlelight and full-on body rubs," each cat comes to life through a lovingly hand-drawn portrait and quick-witted profile. Delightfully quirky and utterly charming, this motley crew of black cats will win over anyone with a dry sense of humor.
About the Author
---
Amy Goldwasser is an editor and writer, originally from Detroit. Peter Arkle is an illustrator and Scottish. They share a home, an office (Studio Goldsparkle) and two cats (Mimi = All Black Cat; May = other) in New York.

Their clients, independently and in collaboration, include magazines, books, websites, newspapers, apps, fashion labels, tech startups, restaurants, running shoes, a scientific research lab, hotels, museums, hair products (styling and loss), schools, whiskies, skyscrapers and other enterprises that keep life interesting.


Praise For…
---
" features 50 hand-drawn portraits of unique and charming black cats paired with lovely stories."
-Hauspanther

" features 50 hand-drawn portraits of unique and charming black cats paired with lovely stories."
-Hauspanther

"Black cats are notoriously hard to photograph - they tend to show up in pictures as dark blobs with demonic glowing eyes, which, when combined with the whole 'unlucky' superstition, has led to a black cat majority in shelters around the world. And they're even harder to draw, which makes a new book, All Black Cats Are Not Alike, by writer-illustrator duo Amy Goldwasser and Peter Arkle, a true feat in the age-old tradition of cat art."
-Hyperallergic.com

"Black cats are notoriously hard to photograph - they tend to show up in pictures as dark blobs with demonic glowing eyes, which, when combined with the whole 'unlucky' superstition, has led to a black cat majority in shelters around the world. And they're even harder to draw, which makes a new book, All Black Cats Are Not Alike, by writer-illustrator duo Amy Goldwasser and Peter Arkle, a true feat in the age-old tradition of cat art."
-Hyperallergic.com

"Lowbrow, Brilliant...delightful cat taxonomy."
-New York Magazine, Approval Matrix

"Lowbrow, Brilliant...delightful cat taxonomy."
-New York Magazine, Approval Matrix

"...real, sometimes darkly hilarious"
- The Huffington Post

"...real, sometimes darkly hilarious"
- The Huffington Post

One of the 10 best crowdfunded literary projects
- The Guardian UK

One of the 10 best crowdfunded literary projects
- The Guardian UK

"As the weather turns cooler, you might want to cuddle up with a good book this month. We suggest All Black Cats Are Not Alike, which features profiles of 50 different black cats and what makes them unique."
-PopSugar

"As the weather turns cooler, you might want to cuddle up with a good book this month. We suggest All Black Cats Are Not Alike, which features profiles of 50 different black cats and what makes them unique."
-PopSugar

"This collection of true stories and hand-drawn illustrations fights the unlucky stereotype that all black cats look and act the same."
-Parade

"This collection of true stories and hand-drawn illustrations fights the unlucky stereotype that all black cats look and act the same."
-Parade

"So fun and sweet. Cats!"
--Paul Feig, creator of Freaks and Geeks, director of Bridesmaids, Spy, The Heat and Ghostbusters (2016).

"So fun and sweet. Cats!"
--Paul Feig, creator of Freaks and Geeks, director of Bridesmaids, Spy, The Heat and Ghostbusters (2016).

"Yes, your cat is very special"
- Fast Company/Co.Design

"Yes, your cat is very special"
- Fast Company/Co.Design

"This new book by Amy Goldwasser and Peter Arkle is filled with true-life tales and stunning hand-drawn portraits of 50 entirely unique all black cat characters. This limited-edition hardcover is a loving tribute to feline eccentricity and charm-and the purrrfect (sorry!) gift for the cat lover in your life."
-RealSimple.com

"This new book by Amy Goldwasser and Peter Arkle is filled with true-life tales and stunning hand-drawn portraits of 50 entirely unique all black cat characters. This limited-edition hardcover is a loving tribute to feline eccentricity and charm-and the purrrfect (sorry!) gift for the cat lover in your life."
-RealSimple.com

Holiday Gift Guide Pick
--Hauspanther

Holiday Gift Guide Pick
--Hauspanther

"A hilarious illustrated personality profile of 50 real cats."
-Better Homes Gardens

"A hilarious illustrated personality profile of 50 real cats."
-Better Homes Gardens

"This book...is the pick of the litter"
-US Weekly

"This book...is the pick of the litter"
-US Weekly