The Retirement Survival Guide: How to Make Smart Financial Decisions in Good Times and Bad (Paperback)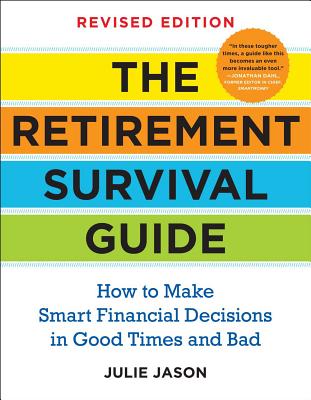 List Price: $14.95
Our Price: $12.50
(Save: $2.45 16%)
Description
---
From a top investment advisor comes time-tested, rock-solid retirement advice for people of every income level.
Given today's dire headlines, planning a secure retirement has become a more critical task than ever. This revised edition of Julie Jason's award-winning guide--updated to reflect current laws and statistics--will help Americans seeking safety and stability in a time of economic change. In addition to showing those on the verge of retirement how to create their own "personal pension," investment educator Jason deftly guides prospective retirees through the otherwise bewildering process of evaluating their needs, anticipating future expenses (and managing current ones), and converting present assets into future retirement income. To achieve this goal, she assembles--and shares with the reader--an entire tool kit of self-assessments, tables, checklists, and essential questions.
About the Author
---
Julie Jason is a personal money manager who began her career as a securities lawyer 30 years ago. A proponent of investor protection, Ms. Jason writes and lectures on investment topics. Her award-winning weekly column, published in the Sunday business sections of the Stamford Advocate and the Greenwich Time, is in its 18th year of publication. The column has been recognized by the IRS for "accurate, timely, informative, and helpful tax information," and by the Connecticut Society of Journalists and Authors for excellence in journalism. Ms. Jason is also the author of Managing Retirement Wealth (Sterling).