Attention-Deficit Hyperactivity Disorder: A Handbook for Diagnosis and Treatment (Hardcover)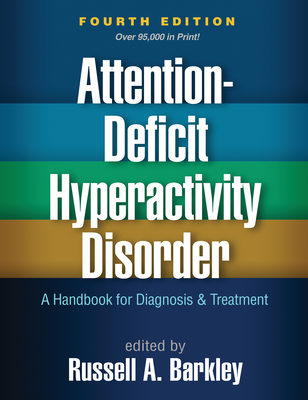 $143.75
This item is backordered and not currently available. Please contact us for an estimated availability date.
Description
---
Widely regarded as the standard clinical reference, this volume provides the best current knowledge about attention-deficit/hyperactivity disorder (ADHD) in children, adolescents, and adults. The field's leading authorities address all aspects of assessment, diagnosis, and treatment, including psychological therapies and pharmacotherapy. Core components of ADHD are elucidated. The volume explores the impact of the disorder across a wide range of functional domains--behavior, learning, psychological adjustment, school and vocational outcomes, and health. All chapters conclude with user-friendly Key Clinical Points.

New to This Edition
*Reflects significant advances in research and clinical practice.
*Expanded with many new authors and new topics.
*Chapters on cutting-edge interventions: social skills training, dietary management, executive function training, driving risk interventions, complementary/alternative medicine, and therapies for adults.
*Chapters on the nature of the disorder: neuropsychological aspects, emotional dysregulation, peer relationships, child- and adult-specific domains of impairment, sluggish cognitive tempo, and more.
About the Author
---
Russell A. Barkley, PhD, ABPP, ABCN, before retiring in 2021, served on the faculties of the University of Massachusetts Medical Center, the Medical University of South Carolina, and Virginia Commonwealth University. Dr. Barkley has worked with children, adolescents, and families since the 1970s and is the author of numerous bestselling books for both professionals and the public, including Taking Charge of ADHD and Your Defiant Child. He has also published six assessment scales and more than 300 scientific articles and book chapters on attention-deficit/hyperactivity disorder, executive functioning, and childhood defiance. A frequent conference presenter and speaker who is widely cited in the national media, Dr. Barkley is past president of the Section on Clinical Child Psychology (the former Division 12) of the American Psychological Association (APA), and of the International Society for Research in Child and Adolescent Psychopathology. He is a recipient of awards from the American Academy of Pediatrics and the APA, among other honors. His website is www.russellbarkley.org.
Praise For…
---
"A virtual encyclopedia of ADHD, this volume details current conceptualizations of this important, common, and controversial disorder, as well as future directions for the field. The fourth edition is remarkable for its wide-ranging scope and depth and its unique perspective that will be appreciated by both scientists and clinicians."--Mark A. Stein, PhD, ABPP, Department of Psychiatry and Behavioral Sciences, University of Washington

"For over two decades, no reference has better synthesized the full scope of basic and clinical ADHD science than Barkley's Handbook. In its fourth edition, an expanded group of authors provides updated views on ADHD and its management, integrating recent research in brain imaging, genetics, neuropsychology, clinical phenomenology, and treatment. The volume's developmental perspective is highly useful and fully acknowledges ADHD as a lifespan disorder. The editor's Key Clinical Points in each chapter ensure that the book is as clinically relevant as it is complete. The Handbook remains essential reading for any clinician, researcher, or student with serious interest in ADHD."--James J. McGough, MD, MS, Division of Child and Adolescent Psychiatry, David Geffen School of Medicine, University of California, Los Angeles

"An impressive work bringing together many of the most prominent investigators of the etiology, assessment, and treatment of ADHD. The coverage is comprehensive, reflecting the voluminous literature on ADHD that, despite its size, remains characterized by unanswered questions. There is an important blend of theoretical update, review of evidence, and pragmatic application of findings. Updates from the prior edition are clearly identified and numerous; the book's format facilitates quick reference and application by busy professionals. Particularly intriguing and important is the diversity of viewpoints reflected across the chapters--the volume does not shy away from such diversity, but rather embraces it."--Brooke S. G. Molina, PhD, Department of Psychiatry, University of Pittsburgh School of Medicine

"Attention-Deficit Hyperactivity Disorder: A Handbook for Diagnosis and Treatment is a great resource for understanding attention deficit hyperactivity disorder (ADHD) regarding its nature, assessment, and management….One of the chapters provides clear guidelines for educators and clinicians to address ADHD problems in schools. Chapter 24 helped me understand the role of school psychologist in school-based behavioral interventions for students with ADHD….This is a must-have handbook for practitioners. The authors use tables, charts, and graphs to illustrate important data. It would also be an excellent resource for graduate students who are interested in this area."
— NASP Communiqué

"An excellent text for clinical psychologists, psychiatrists, and physicians seeking an up-to-date resource on ADHD. This book would be a good addition to any graduate psychology course on child or adult psychopathology where ADHD is an emphasized disorder. Barkley continues to work diligently, reviewing the ever growing body of research on this topic. He is to be commended for keeping the field current."
— Child and Family Behavior Therapy

"This book can realistically be read and used by anyone with an interest in ADHD. The book is easy to read, and it is a great tool for anyone in the field of mental health or working with patients with the diagnosis. I will be using this book in my practice as well as for medical students, therapists, parents, and residents in training….This book covers every aspect of knowledge, treatment, research, and more regarding the diagnosis of ADHD….This handbook is a great addition to the field of psychiatry and mental health….I have not come across another such treatment tool on ADHD as good as this one. It is a one stop shop for all necessary information. I would highly recommend this book to anyone in the field. *****!"
— Doody's Review Service

"The standard reference in the field....[Barkley's] theory of ADHD brings together his own vast knowledge of ADHD and other areas….He is quite aware that he is breaking new ground, and that there is speculation in his formulations. But we are grateful he has put his good mind to developing this area. Having a theory to develop and test is a welcome development in this field....This book should be on every neuropsychologist's shelf." (on the third edition)
— Archives of Clinical Neuropsychology

"A much-needed and anticipated addition to any practicing clinician's library....Very well written, well edited, and well referenced." (on the third edition)
— Journal of Clinical Psychiatry

"Does not disappoint as the ultimate, authoritative reference for both researchers and clinicians....This volume is a major addition to the scientific literature about ADHD. Its depth and breadth are second to none, and every area discussed within the Handbook is treated exhaustively. The reviews of relevant research are focused, balanced, current, and highly relevant." (on the third edition)
— PsycCRITIQUES

"The field cries out for an authoritative handbook and this need has been filled by Russell Barkley, an undoubted leader as well as a pioneer in the field." (on the third edition)
— Journal of Nervous and Mental Disease