Creative Arts and Play Therapy for Attachment Problems (Paperback)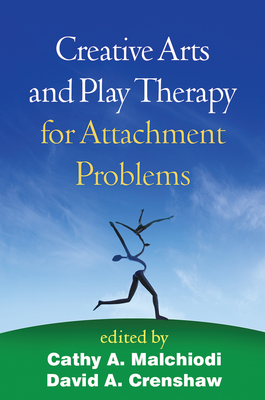 $40.25
This item is backordered and not currently available. Please contact us for an estimated availability date.
Description
---
This book vividly shows how creative arts and play therapy can help children recover from experiences of disrupted or insecure attachment. Leading practitioners explore the impact of early relationship difficulties on children's emotions and behavior. Rich case material brings to life a range of therapeutic approaches that utilize art, music, movement, drama, creative writing, and play. The volume covers ways to address attachment issues with individuals of different ages, as well as their caregivers. Chapters clearly explain the various techniques and present applications for specific populations, including complex trauma survivors.
About the Author
---
Cathy A. Malchiodi, PhD, ATR-BC, LPCC, LPAT, REAT, is a psychologist, expressive arts therapist, and art therapist specializing in trauma recovery. She is the founder and executive director of the Trauma-Informed Practices and Expressive Arts Therapy Institute, which trains mental health and health care practitioners in medical, educational, and community settings and assists in disaster relief and humanitarian efforts throughout the world. Dr. Malchiodi has given more than 500 presentations in the United States, Canada, Europe, the Middle East, Asia, and Australia, and has published numerous articles, chapters, and books, including Understanding Children's Drawings and Creative Interventions with Traumatized Children, Second Edition. Dr. Malchiodi has received numerous awards for distinguished service, clinical contributions, and lifetime achievements, including honors from the Kennedy Center and Very Special Arts in Washington, DC. A passionate advocate for the role of the arts in health, she is a contributing writer for PsychologyToday.com.

David A. Crenshaw, PhD, ABPP, RPT-S, is Clinical Director of the Children's Home of Poughkeepsie, New York, and Adjunct Faculty at Marist College. He has taught graduate courses in play therapy at Johns Hopkins University and Columbia University and has published widely on child and adolescent therapy, child abuse and trauma, and resilience in children. A Fellow of the American Psychological Association and of its Division of Child and Adolescent Psychology, Dr. Crenshaw has received lifetime achievement awards from the New York Association for Play Therapy and the Hudson Valley Psychological Association. He is a past chair of the board of directors of the Coalition against Sexual and Domestic Abuse and a member of the professional advisory board of the Courthouse Dogs Foundation and of the Dutchess County Task Force against Human Trafficking.
Praise For…
---

"Truly impressive. The chapters capture the power of different therapeutic techniques that involve the use of the arts and play when working with children with attachment problems. The case examples provide a revealing view of and rationale for the interventions of very talented therapists. The book is enriched by the inclusion of recent brain research to help the reader understand why these techniques are indicated. While the emphasis is on youngsters with histories of abuse and attachment problems, the therapeutic techniques described are applicable with all child patients. This is an invaluable resource for both beginning and experienced child and adolescent psychotherapists. Malchiodi and Crenshaw are to be commended for editing such a wonderful, informative book."--Robert Brooks, PhD, Department of Psychiatry, Harvard Medical School



"When children are 'captured' by living in a traumatic environment, it takes the efforts of a brave and knowledgeable therapist to help release them from their psychological bondage. This book brings that insight to fruition in an approach to attachment-focused play and arts therapy that is grounded in knowledge of developmental neuroscience, and it does so with insight and wisdom. It should be required reading for any professional who steps into the world of children exposed to the dark side of human experience."--James Garbarino, PhD, Maude C. Clarke Chair in Humanistic Psychology, Loyola University Chicago



"This book is a gem! Integrating attachment theory, recent advances in neuroscience, and clinical wisdom, the editors have made an outstanding contribution to the field. Contributors weave together theory, research, and practice. Readers gain a deeper appreciation for the rich nuances of creative arts and play therapy as powerful means of helping survivors of attachment trauma. Every chapter contains practical techniques for addressing a wide range of therapeutic issues, and vignettes that bring the concepts to life. Clinicians of all levels of experience will find reading this book to be enlightening, moving, and inspiring."--Lennis G. Echterling, PhD, Director and Professor of Counseling, James Madison University